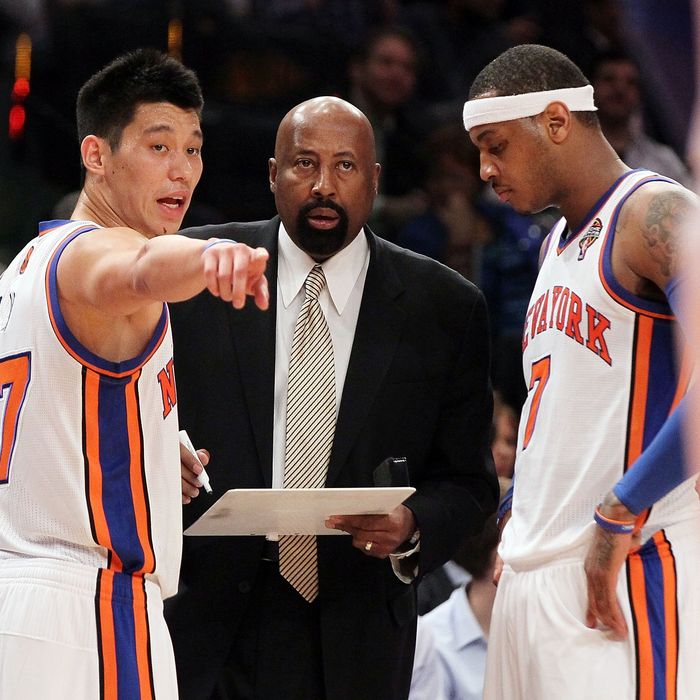 The Knicks have responded pretty well to new head coach Mike Woodson.
Coach Mike D'Antoni's Woodson's rotation is an ever-evolving machine with parts that grow, shrink, disappear, and switch roles constantly. As part of our Knicks coverage all season, we'll be tracking each player every Tuesday. Come join us for the Knicks Power Rankings!
1. Tyson Chandler. (Last week: 1) Well, a lot has changed since our last rankings. The Knicks didn't make any trades or anything, but Mike D'Antoni — the mad scientist whose rotational caprices helped guide these rankings — resigned from his post as Knicks head coach after a tumultuous few weeks/months/years. When D'Antoni d'eparted, the Knicks had just lost six straight games. Since Mike Woodson took over, they've won three straight. Though Woodson has moved a few minutes around and directed the ball to some different spots on the court, not much has changed strategically. What has changed — unmistakably so — is the team's effort. They're trying harder. Whether it's something Woodson projects that D'Antoni lacked or merely the familiar hey-new-coach-everybody-wake-up phenomenon, the Knicks are suddenly playing like they give a shit. That much was evident when New York flattened the hapless Blazers, and it was doubly evident when they took two in a row from the more respectable Pacers. We'll see how long this lasts.
In the meantime, Chandler stands out as the Knick whose effort hasn't wavered a bit, whether the Mike in charge was D'Antoni, Woodson, Tyosn, Myers, or Teavee. Tyson's finished plays and shackled opposing big men all season even while the rest of the defense lagged, and that definitely didn't change in his first week under Woodson. Chandler slowed LaMarcus Aldridge on Wednesday, completely shut down Roy Hibbert on Friday, then had less success but, ya know, still got the win and stuff in Saturday's rematch with Hibbert. On the other end, Chandler shed some of his wrist armor (as well as a good inch or two of beard fur) and looked a bit more confident with the ball in his hands. Particularly in the first win over Indiana, Tyson's finishing touch around the rim — even in traffic — looked fine as ever. Bless you, Tyson Chandler. You are and have been wonderful.
2. Carmelo Anthony. (Last week: 4) Half of the time, when folks are discussing the "effort" stuff I was describing above, they're really talking about Melo. The issues were teamwide, but Melo had justifiably been branded as the mascot of a unit flush with talent but wanting for energy. And now that he's playing well on both ends of the floor, everybody's like, "Wait, where was this all year?" To which Melo remorselessly replies, "Yeah, I pretty much wasn't trying before the coaching change. What!? Nobody told me to!" Knicks fans' outrage at such an admission has been well articulated and the whole thing is, indeed, pretty baffling, though certainly not a surprise, nor anything we couldn't see ourselves. I guess Melo should be commended for his honesty?
In any event, we take things a week at a time here at the Rankings, and Anthony played himself a pretty nice week of basketball. In spite of the widespread assumption that he'd suddenly be hyperfeatured the way Joe Johnson once was in Woodson's offense, Melo more or less epitomized the way D'Antoni wanted him to play. He kept his shot totals pretty low (albeit in blowout-trimmed minutes), made some brilliant entry passes from the perimeter, and worked off the ball to get into the paint and to the free throw line. Even better, Melo decided to exert himself on the defensive end and hassled Danny Granger into consecutive subpar games. It's pretty maddening to see effort like that after 40 or so games of minimal defensive impact, but all Melo needs to do is keep it up and most of us will get over it. We'll see how that goes.
3. Jeremy Lin. (Last week: 3) Lin, like Melo and Amar'e, got plenty of rest during the first two games of the week. Against the Blazers, he was pretty sloppy in limited minutes, but in the first Indiana game, he did a very nice job distributing the ball — lots of perfect outlet passes, nice feeds into the paint, and productive drives to the basket. In a second game against the Pacers that demanded more of his input, Lin was terrific. He flirted with a triple-double, snatching a career-high seven rebounds that fed into sharp passing and aggressive drives to the basket. And it was Lin's pair of fourth quarter baskets that set New York's game-clinching run in motion and made Saturday's victory a comfortable one. Everybody was super worried that Lin's game and/or "Linsanity" would be marginalized under Woodson — folks actually made it sound like Jeremy was going to die — but the kid looked sharper with each passing game this week. Maybe Woodson's reputation for point guard-squashing has less to do with his system and more to do with the fact that Mike Bibby was his one in Atlanta?
4. Amar'e Stoudemire. (Last week: 2) Because he's far savvier at talking to the media, Amar'e's avoided a lot of the ire directed at Melo even though he's exhibited a similar sudden uptick in defensive vigor. Stoudemire is just naturally not as gifted a defender as Anthony (which is perhaps another reason he doesn't get as much flack for it), but he was able to make a difference in both games against Indiana, holding David West to two silent outings. As has been said before, Stoudemire's streaky offense of late is much easier to stomach when he's influencing the game defensively and on the glass. We'll eventually get to see exactly how Woodson plans to employ Amar'e on offense — there's been talk of more post-ups — but, in the meantime, it'd make everybody very, very happy if more opposing power forwards produce lines like West's.
5. Steve Novak. (Last week: 6) Novak and J.R. Smith had pretty similar weeks, but Steve holds his edge because of his unparalleled accuracy. Even when you include his uncharacteristically shaky second half in Indiana, Novak shot 12–24 from downtown for the week. He now boasts a three-point percentage of .482 so far this season, and that's with 166 attempts under his championship belt. That is preposterous. It's not fair. Take a gander.
6. J.R. Smith. (Last week: 10) Smith experienced as dramatic a renaissance as any Knick this week, suddenly relocating his jump shot and leading the team in scoring in consecutive games. A lot of that scoring (including his record-setting seven second half three-pointers against Portland) came during meaningless garbage-time ball, but he also offered two quietly crucial threes in the first quarter of Saturday's game to dissolve an early Pacer lead.
7. Jared Jeffries. (Last week: Injured) Jared returned to action after straining his knee and did what he does. He was plenty disruptive as Chandler's second unit counterpart, and made a few lovely offensive plays as well. This backcourt pressure-to-frontcourt skyswatting sequence, above all else, was the highlight of the week for Jeffries, if not the whole team, and typified the kind of presence Jared has on defense.
8. Iman Shumpert. (Last week: 8) Shumpert added the usual backcourt intimidation to the Jeffries-anchored defensive second unit. Shump's scoring wasn't anything special, but he did get to the free throw line (nineteen attempts in three games) at a higher rate than usual, which is a good sign from a rookie who's way too athletic not to draw that kind of contact on the move.
9. Baron Davis. (Last week: 7) I'm not quire sure where to stick Baron, seeing as he strained his hamstring and missed about half of the week's action. During the other half, Davis proved well aware that he was sharing the floor with two snipers and did a lot of driving 'n' kicking to Novak and Smith. He tossed ten assists in just eighteen minutes on Wednesday. Baron still found his own shots, of course. Few players — Jamal Crawford comes to mind — delight in attempting buzzer-beaters as much as Davis does.
10. Landry Fields. (Last week: 5) Fields deserves credit for asserting himself on defense and pursuing loose balls while his offense sputtered, but that offense sure did sputter. He's still prone to occasional blunders driven by lapses in self-awareness (i.e., "I, Landry Fields, can beat three defenders off the dribble), though that wasn't really the case this past week. Fields was just cold from the … field and couldn't get shots to drop. It happens. It was a series of defensive errors, though, that got Landry benched for most of the second half in Indiana, thus making Fields one of the first major victims of Woodson's "accountability" platform (the other big one being Smith after he showboated during garbage time).
11. Mike Bibby. (Last week: 12) Woodson found some minutes for his old friend when Davis went down, and Bibby was actually pretty productive in those minutes. He ran some nice pick-and-rolls with Jeffries, hit his jumpers, and, like everybody else, made some energetic defensive plays. Mike Bibby!
12. Josh Harrellson. (Last week: 9) Jorts hardly played, but when he did, he didn't miss. 4–4 on the week, y'all.
13. Jerome Jordan. (Last week: 11) Jerome got a couple of opportunities to lope but didn't even attempt a shot during that time. Still, a week in which Jerome gets to spin is a fine week indeed.
14. Toney Douglas. (Last week: 13) Toney Douglas Jr. was born on March 14! Hooray! This week's Toneygram, naturally, is "Young Lad Toes" in celebration of tiny baby feet. Congratulations, TD. May TD2DWTDD.
Injured: Bill Walker