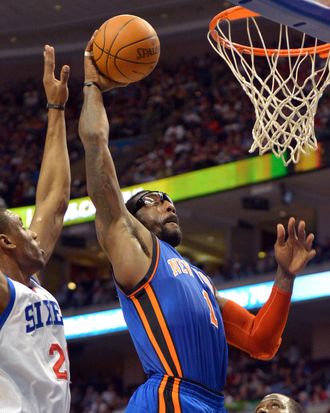 Amar'e Stoudemire looks a lot livelier these days.
The Knicks Blog's Tommy Dee made an astute point this morning in noting that Knicks fans are pretty quick to jump to conclusions when faced with hobbled players. We've been conditioned by the prolonged fizzling of Knicks like Allan Houston, Antonio McDyess, and Eddy Curry to get queasy at the first sign of physical struggles by a well-compensated player. So when Amar'e Stoudemire spent the first month or two of this season looking unusually slow, feeble, and flightless, we kind of lost our shit.
Never mind that Amar'e was coming off a bad back injury that lingered through the summer, or that he'd admitted to hardly handling a ball during the lockout, or that a sharp stretch of games in early February was horribly interrupted by his older brother's death. Amar'e looked off, and the conversation in the stands and across the Internet turned to Amar'e's hefty contract and, if possible, eliminating it immediately via trade or, if necessary, consumption. And indeed, even for those of us who traffic in benefits of the doubt, watching Amar'e was pretty frightening. Not only was he failing to "explode" over defenders, but his jump shots wouldn't fall, and his defense was as token and ineffective as ever.
The Knicks probably inquired about trades for Amar'e (and were probably nauseated by the assets they were offered in return) but ended up sticking with their $100 million man through the trade deadline. Lo and behold, the patience has paid off. Since around the time of the All-Star break (during which Stoudemire was far away from the festivities, vacationing in the Bahamas), Amar'e's really turned things around, and I cannot express strongly enough what a relief it is.
After shooting poorly all season, Amar'e's hit 56 percent of shots in March. His elbow jumper still isn't quite as reliable as it was last season, but he's made up for it by scoring much more efficiently around the basket and turning the ball over far less. A common refrain now is that "STAT is back!", but that almost ignores what's great about this recent stretch. Having lost weight and taken time to heal, he does look somewhat bouncier and lighter on his feet, but he's still not launching over defenders the way he used to as a Sun or even like he was last season. There were so many moments in January in which we saw Amar'e catch the ball, gather a few feet the rim, size up a defender, and conclude that a straight, upward trajectory was well within his wheelhouse, only to hop directly into the opponent's chest and bungle the finish. It was a bit like that Top Gun line about the ego writing checks that the body can't cash. What's changed is his willingness to adapt to his physical state. Stoudemire famously developed a jumper and a finer set of offensive tools to mitigate the effects of microfracture surgery years ago, and after struggling for a while, he's had a mini-renaissance of that sort in the last few weeks. 
Now, not all of those ego checks are bouncing, but Stoudemire's also shown the wisdom to override his instincts and calculate his drives a bit more. He's making much better use of feints and dribble moves, plotting an oblique course to the rim instead of drawing those ill-fated beelines. He's catching the ball with his back to the basket (an approach emphasized by Mike Woodson) and working his defender a bit before attacking. Best of all, he's wearing opponents down on the other end of the floor. Stoudemire had a role in David West's struggles last week, and he played a part in Elton Brand's scoreless second half last night in Philadelphia.
So, while it's wonderful to see Amar'e regaining some of that propulsion, it's been equally relieving to see him adapt positively to his own limitations. That contract lasts for another three seasons after this one, and Stoudemire, even when fully healthy, won't always be able to rely on straight lines and upward thrust. Stoudemire's play of late has demonstrated — and not for the first time in his career — that with time, he can establish workarounds for diminishing returns on his otherworldly athleticism. After a month or two of worrisome performance and rampant paranoia, that's such a relief.