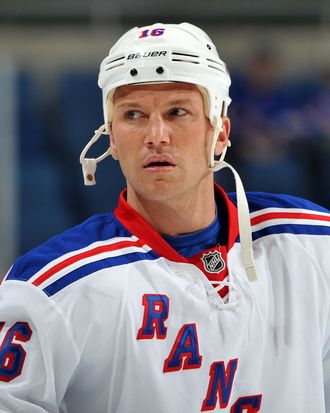 This week, the Rangers informed Sean Avery that he wouldn't be on the postseason roster of the AHL's Connecticut Whale, and that he no longer needed to report for practice or games. The popular winger has left the organization before, of course, but after a season that saw him twice waived by the team, it appears to be permanent this time. Here, now, a look back at Avery's many departures and returns, plus a quote from the time for each.
February 5, 2007
The Rangers acquire Avery and prospect John Seymour from the Kings in exchange for Jason Ward and the rights to unsigned forwards Marc-Andre Cliche and Jan Marek.
"Sometimes players just take a little time to mature. Sean's still young, hopefully he'll continue to do so. He's going to a big stage now. If he continues [to mature], he'll do just fine. From the summer, when I first got there, there wasn't much of a market for Sean Avery. He's made progress." — Kings GM Dean Lombardi
July 2, 2008
After becoming a fan favorite during his season-and-a-half in New York, Avery signed a four-year, $15.5 million contract with the Stars during free agency.
"He made the Rangers a much better team. In talking to some of the guys on that team, they are very sorry to see him go. He's a great teammate – he'll do anything for the team, he'll do anything to win." — Stars co-GM Brett Hull
February 10, 2009
Avery had been suspended for the "sloppy seconds" comment he'd made the previous November, but after he completed treatment in the NHL/NHLPA counseling program, the Stars assigned him the AHL's Hartford Wolf Pack, an affiliate of the Rangers. (The Stars did not have an AHL affiliate at the time, and so they could have sent Avery to any team that was willing to take him.)
"Sean and the Dallas Stars approached me looking for an American Hockey League team for him to resume playing, and I am happy to provide him with the opportunity to continue his career. Sean was a good player for the Rangers during his time here and has worked extremely hard off the ice over the last two months. He remains under contract to and property of the Stars, therefore, any further comment would be inappropriate." — Rangers GM Glen Sather, in a statement
March 3, 3009
The Stars placed Avery on waivers, and as expected, the Rangers claimed him, officially beginning his second stint with the team.
"He's really tried to help himself, and Glen believes in second chances. I think he's done his homework here and we'll see where it goes." — Recently hired Rangers coach John Tortorella
October 4, 2011
While the team was in Europe prior to the start of the regular season, Avery was placed on waivers. When he went unclaimed, he was assigned to the Connecticut Whale of the AHL.
"I'm trying to do this the right way, because I do not wanna keep on shoveling dirt over Sean Avery, but we have better players than Sean Avery, right now on the hockey club." — John Tortorella
October 31, 2011
At the Rangers' home opener, fans in the 400-level displayed a huge banner supporting Avery's return to the NHL club. They'd get their wish: After a 3-3-3 start, and with Mike Rupp out with an injury, the Rangers placed Avery on re-entry waivers. He went unclaimed, and made his season debut with the team on November 5.
"Sean's biggest strengths are his legs. He's a terrific skater, and obviously a big part of his play is his forechecking, his play underneath the hash mark … When a guy like Rupper goes out, to me it's the right call with Sean." — John Tortorella
December 30, 2011
The Rangers once again place Avery on waivers.
"I have a lot to prove, and I have a lot of game left after not being allowed to play my game for the last four years. I guarantee that I'll play my ass off and give everything I have for the team that will give me the chance I wasn't getting [by coach John Tortorella]. That team will be getting a guy who has a lot to prove." — Sean Avery
March 6, 2012
Once again, Avery went unclaimed on waivers and was assigned to Connecticut. He hadn't appeared in a game for the Whale since January 27, and this week, he wasn't included on the team's "clear" list, which, via Steve Zipay, makes players eligible for the playoffs. Avery hasn't commented on the decision, but last month, he talked with Women's Wear Daily about whether he has any ill will towards the Rangers. Said Avery: "How could I be upset? I had an amazing time here. I have so many friends that I've made out of this. I've basically forged a career out of living here."