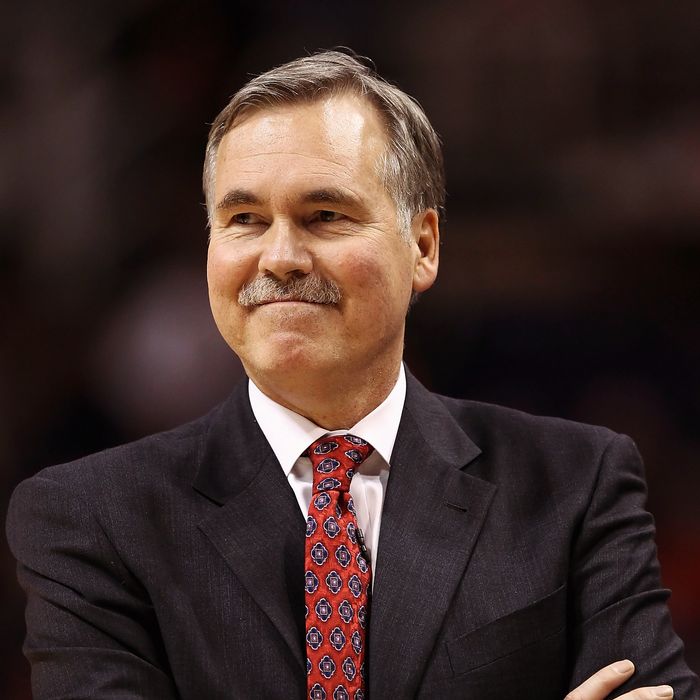 There has been a general notion over the past two weeks of Knicks futility that the "battle" between Knicks coach Mike D'Antoni and his superstar Carmelo Anthony would come to a head in the offseason, when D'Antoni's contract was up, when we knew what happened this year. Heck, a month ago, we, and everybody else, were convinced that D'Antoni had no chance … but then Linsanity arrived, and saved everybody. But only for a month, apparently, and only until Anthony came back. About 20 minutes ago, Yahoo's Adrian Wojnarowski broke the news: Mike D'Antoni is resigning. Immediately. Holy cow.
Wojnarowski says there were "conflicting visions of club's future … Mutual decision to no longer coach," and that assistant coach Mike Woodson will take over, starting with tonight's game against the Portland Trail Blazers. That there were conflicting visions of the team's future is no surprise; that has been the source of the mess that the last fortnight has become. But D'Antoni out now? This morning, Anthony was saying he didn't want to be traded, and the Knicks looked ready to bounce back at home after that losing streak. Then, this afternoon, D'Antoni's gone.
There are so many questions now. What happens to Jeremy Lin? Will the team become the half-court team Anthony has wanted all along? What is coach Woodson like? Did D'Antoni ever have power after Donnie Walsh left? Did Glen Grunwald, who's supposedly D'Antoni's best buddy, lose power?  Who in the world is running this team? What in the world is going on? The Knicks have had an insane year, but no one could have seen this coming, like this. D'Antoni, who sat through two brutal seasons of massive rebuilding to end up with a team with actual talent … goes out like this.
We're going to be at MSG for tonight's game against Portland. Even with a team as full of drama as the Knicks have always been, needless to say, the atmosphere tonight is going to be like none in memory. The Knicks have fallen into chaos. Now the team has made it official. This is madness.