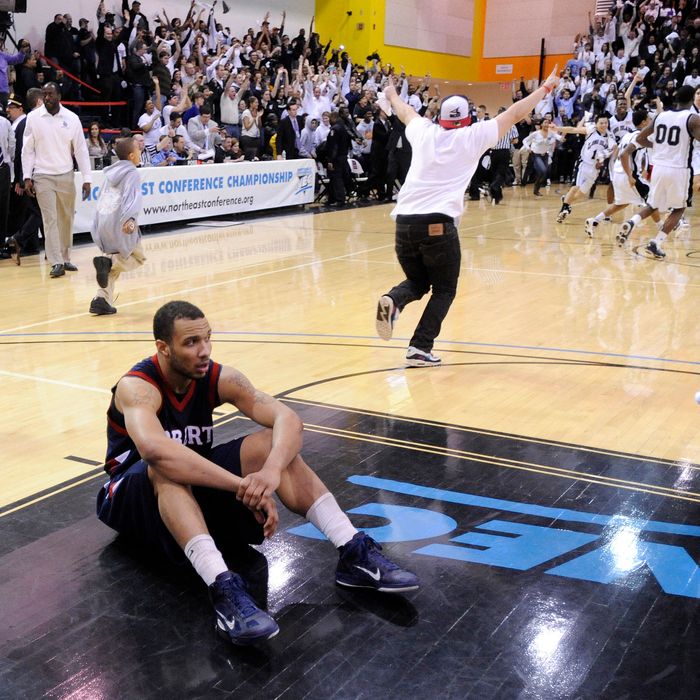 Robert Morris' Lawrence Bridges sits dejected as fans run out onto the court to celebrate with Long Island players after they defeated Robert Morris 85-82 in overtime to win the Northeast Conference Championship NCAA college basketball game Wednesday, March 9, 2011 in New York. (AP Photo/Bill Kostroun)
Longtime readers of The Sports Section know of our closet obsession with the Northeast Conference. It has three NYC-based teams — Long Island,  Wagner, and St. Francis (NY), it has a history of some NCAA Tournament fun, and it plays in all sorts of charming gyms around this lovely metropolis we call home. With St. John's down this year, other than the Big East Tournament (the last real Big East Tournament), the NEC Tournament is the most March college basketball excitement we're going have around these parts. And know that this year more than any, it's definitely Around These Parts.
The NEC Tournament has four games tonight, and three of them — by definition a record — will take place in New York City. No. 1 seed Long Island will host Sacred Heart, No. 2 seed Wagner will host Central Connecticut State and No. 4 seed St. Francis will host Quinnipiac. All games begin at 7 p.m. We've been to all three "arenas," and, as you'd probably suspect, the two Brooklyn spots are vastly preferable to the Staten Island one.
In all seriousness, if you're bored this evening, you should really go. Tickets are cheap, and it'll be a crazy atmosphere at all three places. (Plus, none of the games are on television.)
The favorites are Long Island — who made the tournament last year, memorably — and Wagner; Ken Pomeroy puts Wagner as the most likely winner, with a 41 percent chance. Long Island is at 26.9 percent; St. Francis is at 3 percent. Though LIU was just there, the other NEC NYC schools are far more removed from the NCAA Tournament. Wagner — which was once coached by P.J. Carlesimo, by the way — has only made it once, in 2003. And St. Francis, alma mater of the father of The Sports Section co-editor Joe DeLessio and one of the best places to go see a game, says New York Magazine — has never made it.
The winners of tonight's games play Sunday in the semifinals. (Those games will be on MSG and held at the arena of the higher seed.) And the conference championship game, with the tourney bid on the line, will be next Wednesday, March 7, on ESPN2. Get excited! Go NYC!