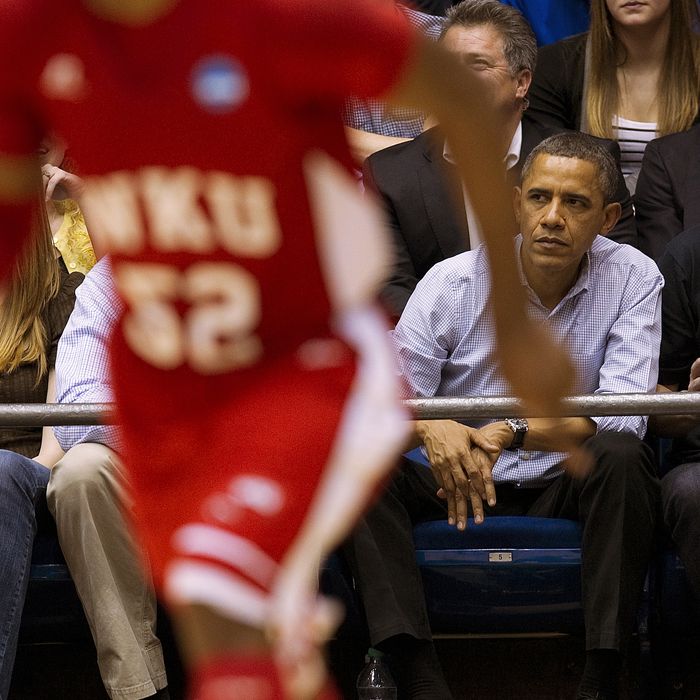 "So, what's a 'guard' again?"
There is something charming about the NCAA Tournament play-in games, particularly the one between the two No. 16 seeds. In one night, teams from Owensboro, Kentucky and Itta Bena, Mississippi get to dress up in their fancy duds for the whole world to see, with CBS's No. 1 broadcast team of Jim Nantz, Clark Kellogg, and Steve Kerr doing a dress rehearsal, their one night on the world's stage. And last night, Western Kentucky and Mississippi Valley State didn't just play for the right to get drilled by Kentucky tomorrow afternoon; they played in front of the leaders of the free world.
Yep, President Obama took British Prime Minister David Cameron to his first-ever basketball game last night, the play-in game that ultimately ended up with one of the most amazing comebacks in tournament history. (Western Kentucky ultimately won, not that it'll affect your brackets.) Neither one of these teams was particularly skilled – it was a ragged, ugly game to watch until the pyrotechnics at the end – and during his halftime interview with Kellogg, the President pointed out that "both teams are shooting terribly." Honestly, he was being nice.
This of course led to the rather terrific moment when a Mississippi Valley State player nailed a three-pointer and then jawed to the President after he hit it. Outstanding. Who among us wouldn't do the same thing? Can you imagine being a player for one of these tiny schools and, somehow, for two hours, having the complete attention of the president of the United States?
Obama seemed to spend most of the game explaining basketball to Cameron, who admitted to not understanding the sport. (Get this guy a meeting with John Amaechi, stat!) They left after the game, not staying for the equally thrilling BYU-Iona game, and Obama even took a picture with a baby on his way out of the gym. We know Ohio is a swing state and this is an election year, but we would absolutely love it if this became a tradition: Every year, the President takes a foreign leader whose country has no understanding of basketball and makes them sit there for a 16-16 play-in game. It's fun for fans to watch and honestly, last night was a night none of those players will ever forget. Though we are sure David Cameron will. We're sure he had no idea what was happening. That was a wicked googly.