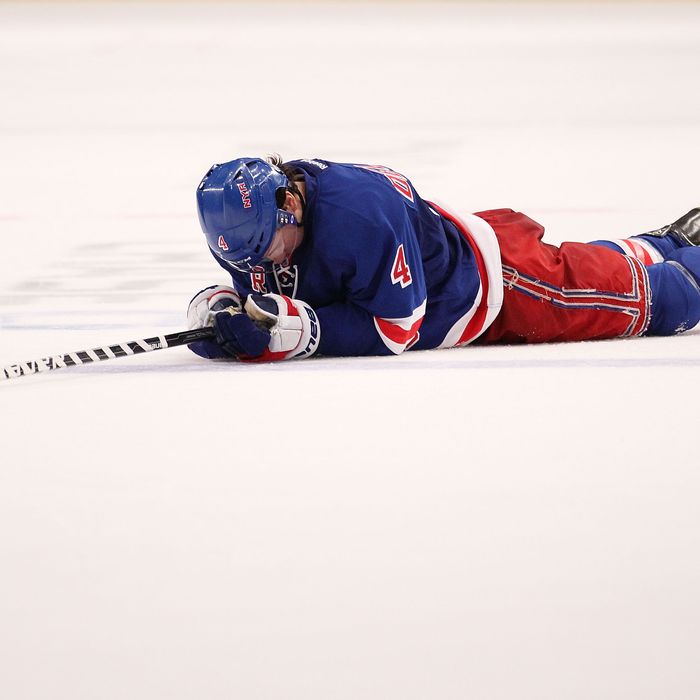 So, the Penguins earned a point in their overtime loss to Philadelphia yesterday — their first defeat since February 19. The Rangers, meanwhile, picked no points this weekend, losing on Saturday night to Colorado to remain at 95 points. And so, with eleven games remaining for both teams, the conference-leading Rangers now have just a one-point lead over Pittsburgh, with the Flyers just two points in back of the Pens.
The Rangers haven't necessarily played consistently terrible hockey in recent weeks as their lead in the standings has evaporated, but just as they had once found ways to win on a regular basis, teams are now finding ways to beat them. On Saturday, for instance, a terrific effort by Semyon Varlamov was the difference. (Which isn't to say there haven't been other issues: The line of Brian Boyle, Ruslan Fedotenko, and Brandon Prust was benched for a time on Saturday night. Also, Stu Bickel would surely like to forget that this goal ever happened.)
The Rangers have put together several impressive stretches this season — ones that helped enable them to stay atop the conference standings despite losing five out of their seven while the Penguins have surged. But they've had trouble stringing together wins of late, and that lead in the standings is almost gone now. (We've reached the point where we're looking at tiebreaker situations should they finish even with either Pittsburgh or Philadelphia. Luckily, the Rangers have six more regulation wins than Pittsburgh, and though they have just two more than Philly, they own the second tiebreaker against the Flyers because of their record in head-to-head games.)
Tonight the Rangers play the fifth game of their current seven-game homestand against a Devils team that's given them trouble this year. (The Rangers are 2-2-1 against New Jersey this season.) Perhaps the best Rangers news of late is that several key players — Henrik Lundqvist, Ryan Callahan, and Michael Del Zotto — returned to action over the weekend, though both Artem Anisimov and Steve Eminger missed the Colorado game with injuries. No matter what happens tonight, the Rangers will start the day tomorrow with the most points in the East. But a regulation loss tonight means the Pens can leapfrog them tomorrow with a win over Winnipeg, while the Flyers (who play Florida tomorrow) could move to within a point of them. Nothing comes easy for this Rangers team, does it?