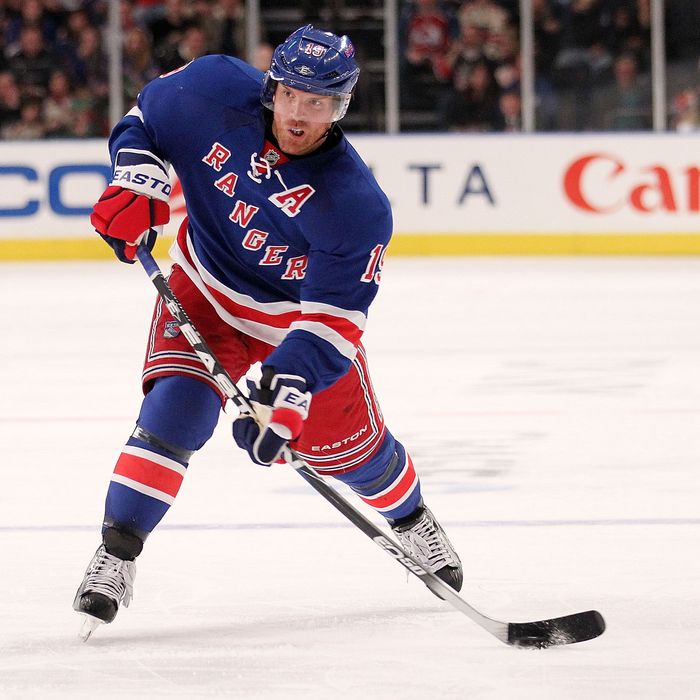 The Rangers have a one-point lead over Pittsburgh in the Eastern Conference, and both teams are in action tonight: John Tortorella's squad is in Minnesota to play the Wild, while the Penguins are home to face the Islanders. And so if things break just right tonight — a Rangers regulation loss and a Penguins win — the Rangers will fall out of first place, where they've been since December 30.
Of course, the Rangers could also extend their lead over Pittsburgh to three points tonight, but that would involve the Pens actually losing a game, which hasn't happened very much lately. The way things have been going, it seems almost inevitable that Pittsburgh will eventually take over the top spot, at least temporarily. And it's not that the Rangers have been collapsing, exactly: They're 7-6-1 in March, which isn't great, but also isn't a total disaster. It's that Pittsburgh is a ridiculous 14-1-1 in their last sixteen games. Working in the Rangers' favor tonight? They'll be playing a team that's already been eliminated from playoff contention. Working against them? The Pens will be playing a team, the Islanders, that's about to be eliminated (though the Isles have won three of their last four games).
Not that this means much, but with Pittsburgh's game starting an hour before the Rangers's, a win would put them atop the conference standings, at least until after the final buzzer sounds in St. Paul. And, of course, it's worth remembering that no matter what happens tonight, playoff seeds aren't decided on March 27. After tonight, both teams will have six games remaining, and while the Rangers don't have to worry this year about securing a playoff berth, they'll likely still be forced to do some scoreboard-watching as the regular-season winds down.