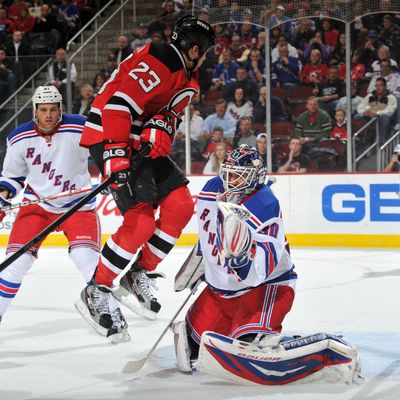 That's levitation, holmes.
As we've seen over the past few days, the Rangers can sometimes earn points even when they don't play their best hockey. But that's not what happened in last night's 4-1 loss in Newark. The Rangers played well enough in the second period, but the Devils were the better team overall, and that was reflected on the scoreboard. This time, the Rangers didn't overcome their mistakes to eke out a win, or even settle for an overtime losers' point. This one was a straight-up regulation loss — one that Brandon Dubinsky left early because of a hand injury, no less.
The Rangers dropped to 2-2-1 against New Jersey this season, and we'll say it again: Based on what we've seen in their head-to-head matchups, the Devils aren't an ideal playoff opponent for the Rangers. (It's still too early to know which team will have which seeds, but just for fun: If the Rangers win the East and the Devils finish sixth, there's a very real possibility they'd meet in the second round. And if, say, Pittsburgh were to catch the Rangers in the Atlantic — or if the Devils were to fall to eighth — the cross-Hudson rivals could meet in the first round.)
We're not sure what to think of the Rangers right now: We've seen some uncharacteristic things over the past couple of weeks, and with a month remaining in the regular season, we wish we could say they were playing their best hockey of the season, and we can't. On the other hand, the results have been good enough: Last night was their first regulation loss in their last seven games, and they still have an eight-point lead over Pittsburgh in the Atlantic Division. Even while we're not thrilled with the way they've been playing, it's hard to panic when they're earning points, especially since we know they've done such a good job this year avoiding extending losing streaks. If they're earning points now, we figure, just wait until they really hit their stride again. The flip side of that, of course, is that even while they compete for the freaking Presidents' Trophy, we worry we'll see more games like last night: ones in which not only don't they dominate their opponent, they don't steal any points, either.
Perhaps that's just old-fashioned Rangers-fan pessimism creeping back into the picture, but what this team needs right now — or maybe, more accurately, what we'd really like to see right now — is one of those games in which everything clicks, where they win like 5-0 and Henrik Lundqvist has to make just fifteen saves for a shutout. We've seen how good this team can be, so it'd be nice to be reminded. (We'd also like to see them stay healthy — or perhaps we should say get healthy — but that probably should go without saying.)
Having said that, their next couple of opponents aren't especially good candidates for such a beat down: They'll visit Ottawa — a team that's beaten them twice in three games this season — tomorrow, then travel to Chicago Friday to play a Blackhawks team that cruised for victory at the Garden last month.