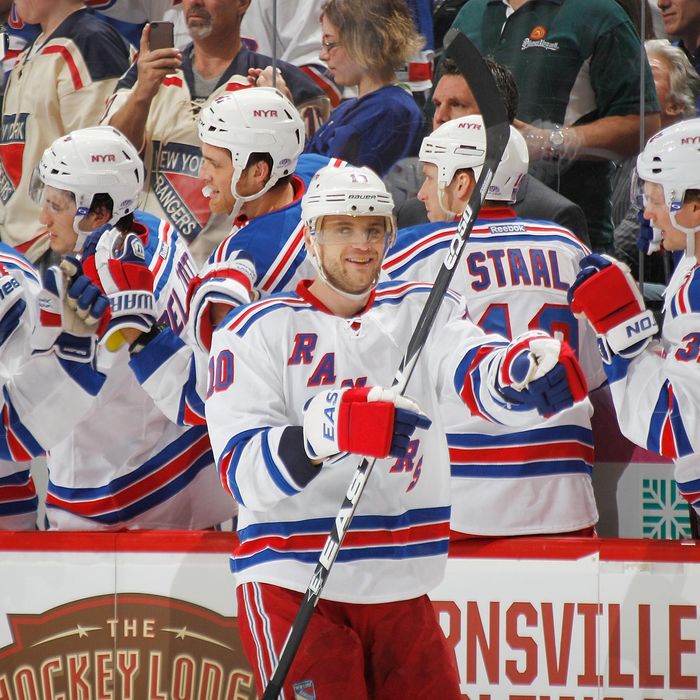 The Rangers took care of business last night, defeating an inferior Wild team to increase their conference-best point total to 103. The Penguins, on the other hand, lost at home to the Islanders in a game during which they fell behind 2-0, tied the score, then fell behind 5-2 — all before the end of the second period. (The Isles would go on to win 5-3.) And on a night when the Rangers could have fallen out of the top spot in the East if everything went just right (or wrong, depending on your point of view), they instead increased their lead to three points with six games remaining.
Once again last night, the chemistry between Marian Gaborik and Brad Richards was evident, and for all that's plagued this team over the last inconsistent month or so — the increasingly common defensive breakdowns, for instance, or the ineffective power play — that's something that's developed just in time for the playoffs. (Needless to say, the pairing of their two big-money free-agent forwards will work even better if the Rangers can get regular production from a second line of Brandon Dubinsky, Derek Stepan, and Ryan Callahan. And it certainly wouldn't hurt going forward if Brian Boyle played a few more games like he did last night.)
Both Wild goals came with the man advantage last night, but considering the Rangers' penalty kill has been a strength all year, we're willing to write that off as a bad night. And though we don't want to give the Rangers too much credit for holding off a team that's already been eliminated from the playoffs and has scored the fewest goals in the league, the Rangers did a good job protecting their one-goal lead after Ruslan Fedotenko put them ahead with 6:23 remaining. (A tip of the Broadway cap, by the way, to Ryan McDonagh, the Minnesota native who collected two assists and earned first-star honors.)
Rick Carpiniello has already done the math for us: Since the Rangers own the tiebreaker over Pittsburgh, if New York goes 3-3-0 over the final six games, the Penguins would need to win ten out of their final twelve points. (It's worth noting that the way these teams have been playing, both of those records seem pretty realistic.) The Pens are off until tomorrow, when they'll once again face the Islanders, this time at Nassau Coliseum. The Rangers, meanwhile, travel to Winnipeg, where tonight they'll face a Jets team that's in tenth place in the East and eight points out of a playoff spot but has played very well on home ice (23-12-4) this season.