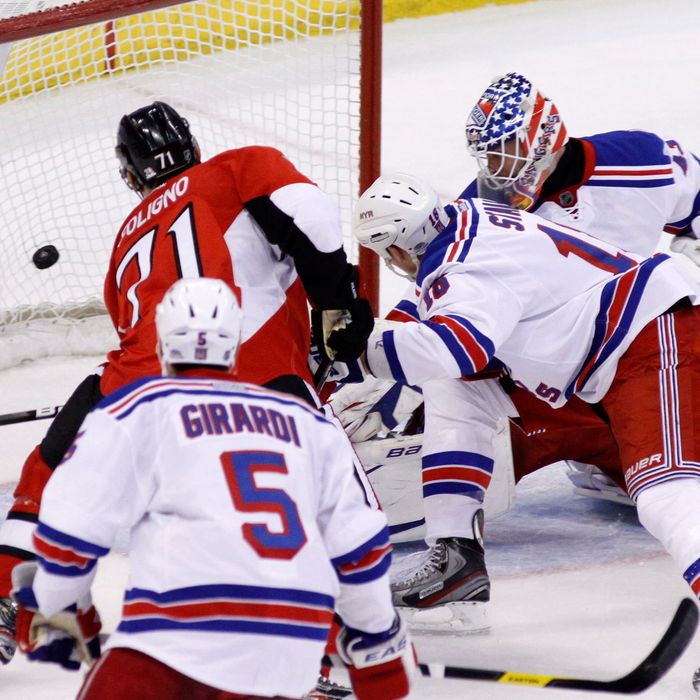 Nick Foligno scores in the first period last night.
Once upon a time — and by that, we mean, like, last weekend — the Rangers were getting away with playing something less than their best game while still earning points. Then came a 4-1 loss in Newark, to a team that's given them trouble all season. And last night brought another 4-1 loss, this one to Ottawa — yet another team that's played the Rangers well this year.
The optimist says the Rangers have lost two games in a row, which isn't really so bad, and that they've been good all year at avoiding losing streaks any longer than that. (They haven't lost three in a row since the first three games of the season.) The pessimist, however, can note that they haven't really looked right for a week now — and that this particular stretch began just a week after another mini-slump in which they lost three out of four. So much has gone right for this team this season, but with the playoffs roughly a month away, this is hardly the time to be searching for answers (like on their dreadful power play), or correcting issues we didn't even know were issues until recently (like some of the defensive miscues, or some undisciplined penalties).
For a team that prides itself on playing strong third periods, the Rangers only saw their deficit increase in the final period last night. Martin Biron — a big reason Henrik Lundqvist is as rested and sharp as he is this year — isn't exactly stealing his team games these days. And then there's the question of health: A handful of key players have gotten banged up in recent weeks, with Brandon Dubinsky missing last night's game because of a sinus issue.
All hockey seasons have their ebbs and flows, and to judge a team at what may very well be its low point isn't fair. Obviously, one shouldn't discount what this team did over the first 60-or-so games, as frustrating as the last week has been. And for as much trouble as they've had scoring goals over the past couple of games, we know they're capable of more than we've seen of late.
A look at the standings shows that the Penguins are chipping away at the Rangers' lead in the Atlantic: Pittsburgh, with 85 points, is now six points back. The Rangers are in Chicago tonight, while Pittsburgh plays in Florida. The optimist says the Rangers could be eight points up by night's ends; the pessimist worries their lead could be down to four. Of course, the Rangers have no control over what Pittsburgh does, but for months now, we've been in the optimist camp: one that's expected the Rangers to win on any given night, just like we've expected them to find a way to win games when, ay, they trail by a goal entering the third period. But as much as we remind of ourselves of those first 60 games, we have to wonder: Is this team flawed enough to keep it from being truly special?
After tonight's game in Chicago, the Rangers begin a seven-game homestand in which they'll play a full range of teams, from last-place clubs like the Islanders and Hurricanes to bubble teams like the Sabres and Avalanche to contenders like the Red Wings and Penguins. (There's also a game against the Devils, a team that's comfortably in the playoffs and has come to play against the Rangers this season.) There are sixteen games left in the regular season, and the Rangers are atop the Eastern Conference. That in and of itself is remarkable — but there's much more to accomplish. Perhaps tonight will be the night they right their ship. The sooner, the better.