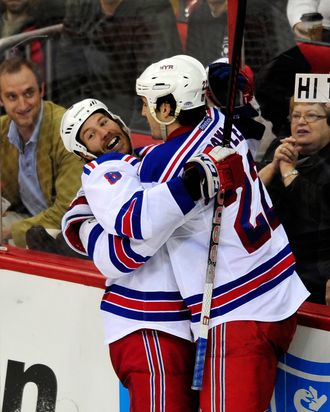 Brandon Prust and Brian Boyle celebrate a goal last night.
The Rangers played last night without their captain (Ryan Callahan has a bruised foot) and their starting goaltender (Henrik Lundqvist sat for the first game of a back-to-back). But save for an undisciplined penalty that caused John Tortorella to sit Brandon Dubinsky for the final 40 minutes, it was a pretty typical Rangers victory: grinding, resilient, occasionally pretty, and ultimately satisfying.
Martin Biron — who hadn't been at his sharpest in recent games — was solid in the 3-2 victory over the Hurricanes, and the penalty killing, which has been a strength all year long, came up big late, when the Rangers found themselves shorthanded for six of the final ten minutes. We still maintain that the Rangers can't afford to lose much offense to injury — Michael Del Zotto, who re-aggravated a hip injury last night is day-to-day as well now — but it's encouraging that they can still earn two points, even against thirteenth-place Carolina, when playing without their usual roster.
The Rangers' three goals were representative ones: The first came shortly after a terrific kick save by Biron: Derek Stepan won a puck along the boards in the neutral zone, and Marian Gaborik and Artem Anisimov made the most of whatever space the Hurricanes defense gave them to tie the score at 1. The second goal was a patented Rangers create-your-own-luck kind of goal: Derek Stepan threw the puck at Cam Ward, and after it bounced up over the Hurricanes goalie, Johnny-on-the-spot Gaborik tapped the puck in for his 30th goal of the season. And the third goal came on a pretty two-on-one, albeit not from one of the top scoring lines: Brian Boyle hit Brandon Prust with a pass early in the third period to give the Rangers a 3-1 lead and a bit of breathing room. The Rangers have a well-deserved blue-collar identity, but it might be more accurate to say that they strike the right balance, given the makeup of the roster, between hard-nosed grinding and skillful playmaking.
The Rangers have a busy March ahead of them: They'll play 17 games in 30 days this month, a stretch that includes a seven-game homestand beginning a week from Sunday. Last night's victory was their third-straight following the mini-slump in which they dropped three out of four, and with twenty games remaining in the regular season, they maintain a nine-point lead in the Eastern Conference. The Rangers have a reputation of being well-conditioned, and that could be important this month. But getting healthy and avoiding further injury will be critical, too. They're in Tampa tonight, then back home for a big matchup on Sunday against the Bruins.