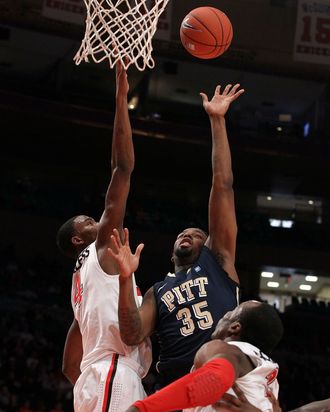 Pittsburgh's Nasir Robinson.
St. John's played Pitt just last Wednesday, falling by twenty in their penultimate regular season game and snapping a three-game winning streak that included victories over UCLA and nationally-ranked Notre Dame. And while today's rematch in the opening round of the Big East Tournament wasn't quite as one-sided, the Panthers took the lead for good late in the first half, and would go on to eliminate the Red Storm by a score of 73-59. Pitt advances to play Georgetown tomorrow afternoon.
Standout freshman Moe Harkless, who played just 22 minutes in the game against Pittsburgh last week because of a mildly strained ankle, led the Red Storm with 25 points. But as a team, St. John's shot just 33.3 percent from the field (and just 2-for-11 from beyond the arc), and they were unable to put together the second-half run they so badly needed. Ashton Gibbs led the Panthers with twenty points.
St. John's finishes with a 13-19 record. It's been a long season for the Johnnies, who lost most members of last year's NCAA Tournament team but also boasted a highly touted recruiting class: Head coach Steve Lavin was absent from the bench for much of the season as he regains his stamina following prostate cancer surgery. (He has said he'll be back next year.) In December, point guard Nurideen Lindsey decided to transfer, while last month, Malik Stith — the Red Storm's only returning letter-winner — left the team. This year did bring some quality victories — the win over Notre Dame at the Garden on February 25, for instance, or their victory at Cincinnati on January 7 — but it nonetheless ends on the first day of the Big East Tournament.