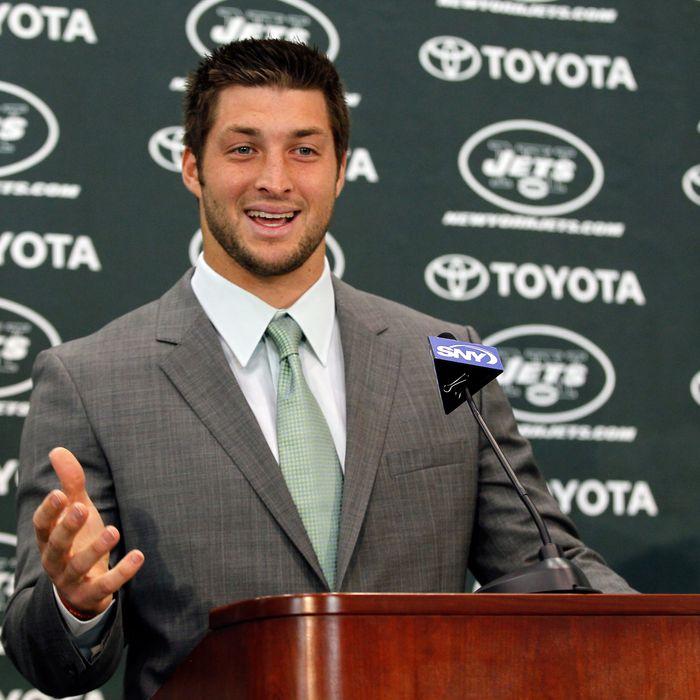 The Jets held a press conference today to introduce Tim Tebow to the media. The event — which, folks will remind you, was for a backup quarterback — drew enough of said media that the Jets felt compelled to hold it in their indoor practice facility instead of their usual press conference room. The mere fact that Tebow's introduction generated such hoopla was reported to have irritated some people, including members of the Jets, but the conference itself was about as inoffensive as possible.
Tebow spoke for just over a half hour, taking questions with his usual wholesome, polished cheer. Those asking questions were "sirs" and "ma'ams," and were met with grins, laughter, and the occasional "that's a great question." Tim's really, really good at this stuff, you see. And part of being good at this stuff is speaking a lot without actually saying much. Tebow did just that, but here's what we were able to glean from his answers:
1. Tim Tebow is excited to play for the Jets. He is excited to play in New York. This is all very exciting. Excitement.
2. Tim Tebow's preexisting relationship with the New York coaches seemed to have been the main factor that gave the Jets the edge over the Jaguars. Also a possible contributing factor: Tim pronounces it "Jacksonville Jag-wires," so that pairing would have been rough.
3. Tim Tebow acknowledged questions about his backup status with the simple assertion that one of his goals would be to "expand" his role.
4. Tim Tebow downplayed questions about his religion (including a rather loaded one about him "spreading his faith" in New York and in the locker room) with the reminder that, though he's a religious guy, the press conference was about playing football for the Jets, not his faith (unless you're talking about his faith in the Wildcat offense).
5. All this nonsense — the stories, the press conference, the giant billboard of his face above the Lincoln Tunnel — is not Tim Tebow's doing. The Jets ordered the press conference because all these reporters wanted to talk to him and Tim's sponsors put up that billboard.
And that's pretty much it. Tebow spoke 4,151 words by Deadspin's count, about 1,500 of which were "exciting" or "excited" by my count. He said very little of note, and did a typically brilliant job of fending off probing questions from the media with smiles, giggles, and diplomatic responses. Well done, Tim Tebow. And welcome.