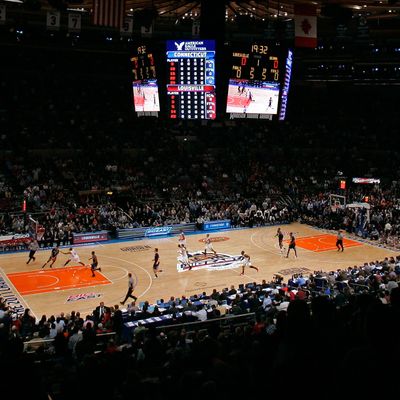 In about an hour, the 30th annual Big East Tournament will tip off at Madison Square Garden, with No. 9 seed Connecticut playing perpetual No. 16 seed DePaul. If you are peering away from your work today to watch the games on ESPN3, you will hear the broadcasters talk bunches and gobs about how this is the last true Big East Tournament. Know that this is (likely) not true. Sure, West Virginia is leaving the conference after this season, but honestly: Who cares about West Virginia? Go, you! We haven't cared about you since the days of Pittsnogle. Otherwise? This could all be the same next year.
Of course, you should probably pretend like this is the last one anyway, because: (a) no one quite knows still what's going to happen with Syracuse and Pittsburgh (whether they'll be let out before next year or not), and (b) it's fun to pretend the world is ending even if it might not be. Either way, at some point, the Big East Tournament — one of the most purely entertaining sports spectacles this city hosts each year — is going to morph into something inferior at some point, and it's going to be doing so because of college football, a sport no one here cares about (unless of course you're not from here, or you're a degenerate gambler). So one should probably try to enjoy it this week.
The local angle— even though all these teams are sort of "local" — is St. John's, which ended up with a No. 12 seed. That means the team has to play today, alas, in the first first round (the pre-pre-bye round!), at roughly 2:30 p.m., against Pittsburgh. (Pittsburgh is a lot worse this year than it usually is.) The only real team in this tournament that matters, at least on a national scale, is Syracuse, which lost only once all year and won't play at the Garden until noon on Thursday (against West Virginia, Connecticut, or DePaul). Everything else is a matter of NCAA Tournament placement. The conference won't land the eleven bids it did last year, but ten isn't out of the question.
But either way: There is Tuesday-afternoon basketball! Championship Week is the best. Our own Joe DeLessio is there today and will be filing for us after the St. John's game. Here's the full sked. Honestly, you should leave work right now and go. Today's the cheapest the tourney gets.
Noon: No. 9 Connecticut vs. No. 16 DePaul
2:30 (est): No. 12 St. John's vs. No. 13 Pittsburgh
7 p.m.: No. 10 Seton Hall vs. No. 15 Providence
9:30 p.m. (est): No. 11 Rutgers vs. No. 14 Villanova
Get! Go!