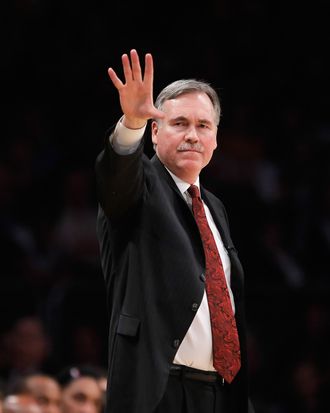 Well, it was quite a week for the Knicks, wasn't it? Let's go chronologically here: First they got blown out by the Sixers on Sunday, then there was that report that Carmelo Anthony might not have been thrilled about the acquisition of J.R. Smith. Next came a loss to the Bulls, followed by report describing Carmelo Anthony's discontent with the organization. And then came the resignation of Mike D'Antoni and 42-point victory over Portland. So to recap: Linsanity is officially over, and we're now in Phase eight of the Knicks' season. But what happened this week that didn't involve a promotion for Mike Woodson?
The Rangers opened a seven-game homestand with a pair of wins, but lost last night to Sidney Crosby and the Penguins.
The Yankees signed Andy Pettitte to a minor-league contract.
Tyson Chandler topped our Knicks Power Rankings.
We got ready for tonight's LIU game, in an NCAA Tournament that hasn't featured too many upsets yet.
The Nets made a move at the trade deadline, but it wasn't for Dwight Howard.
Jakarr Sampson re-committed to St. John's.
Sean Avery said that he was retiring from hockey.
And we wondered whether the NHL should seed playoff teams like the NBA.
That's it for us. Have a great weekend.