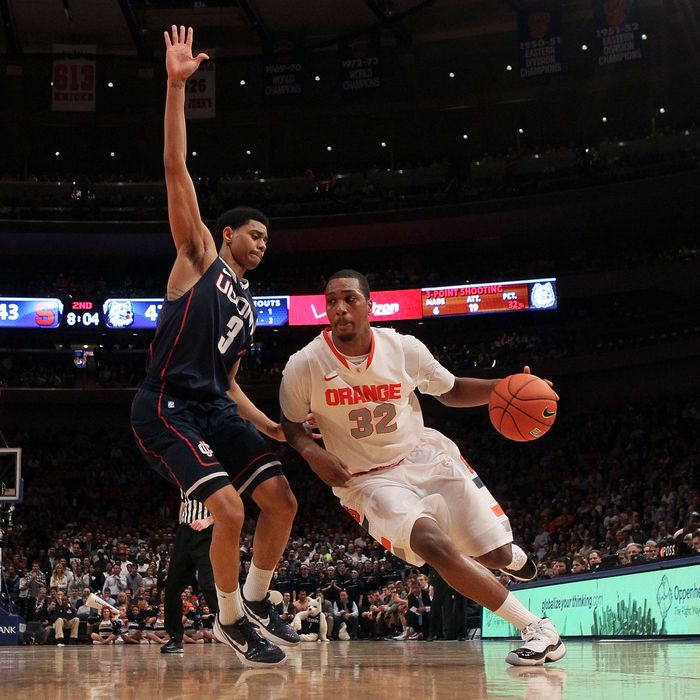 Syracuse's Kris Joseph and UConn's Jeremy Lamb.
Yesterday we got exactly the kinds of things we were hoping for from the Big East Tournament: a couple of overtime games, an upset of a top-ten team, and a quality Syracuse-UConn game. But as fun as weekday afternoon basketball is — and make no mistake, it's pretty great — it's prime-time-only from here on out for the Big East. Tonight Syracuse takes on Cincinnati in the first semifinal, with Notre Dame and Louisville facing off in the second. But what happened this week that didn't involve an early exit for St. John's?
The Knicks lost three straight.
The Rangers didn't do much better, beating the Bruins on Sunday, but dropping their next two.
LIU once again won the NEC Tournament, earning an automatic NCAA Tourney berth.
Carmelo Anthony returned to the top spot on our Knicks Power Rankings.
We looked at what Monday's Wilpon ruling meant.
The Colts released Peyton Manning, and we fired up the ol' Peyton-to-the-Jets Meter.
David Robertson fell down some stairs, but luckily, he only has a bone bruise in his foot, and not something more serious.
Reports said the Giants are set to release Brandon Jacobs.
And we looked at the many departures and returns of Sean Avery.
That's it for us. Have a great weekend.