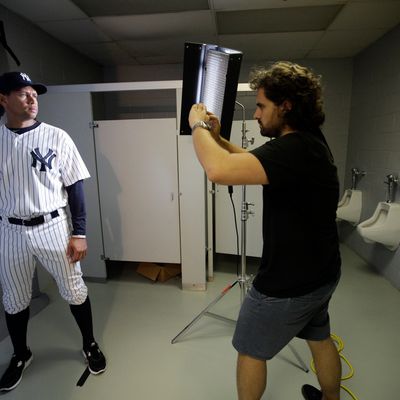 First come the bathroom photo shoots, then come the baseball games.
This afternoon, the Yankees defeated the University of South Florida Bulls by the score of 11–0. Today also brings the first game of the spring involving two big-league clubs: The Mariners and A's are in progress right now in Phoenix. (Tomorrow, the Yankees begin their Grapefruit League schedule with a game against the Phillies, while the Mets begin theirs two days later against the Nationals.) So far this spring, we've seen A.J. Burnett injure himself by bunting a ball off his face, a bathroom photo shoot at Yankees camp, and of course, a team-building improv outing. Meanwhile, this week we paged through Baseball Prospectus 2012 and looked ahead at the coming season, while we also took a moment to look back at the Jason Varitek-Alex Rodriguez brawl of 2004, on the occasion of the Boston catcher's retirement. But what happened this week that didn't involve rivalries?
The NHL trade deadline passed, and Rick Nash wasn't moved. The Rangers, meanwhile, beat the Devils and Hurricanes, and remain atop the Eastern Conference standings.
The Knicks beat the Cavs in their first post-All-Star-break game.
We looked at what more Jeremy Lin can give us. Speaking of Lin, he topped our weekly Knicks Power Rankings. Also: You can thank him for the Knicks bench.
We looked at some reasons why Amar'e Stoudemire might revive his season.
And LIU and Wagner advanced in the NEC Tournament, while St. Francis's fell in their tourney opener to Quinnipiac.
That's it for us. Have a great weekend.