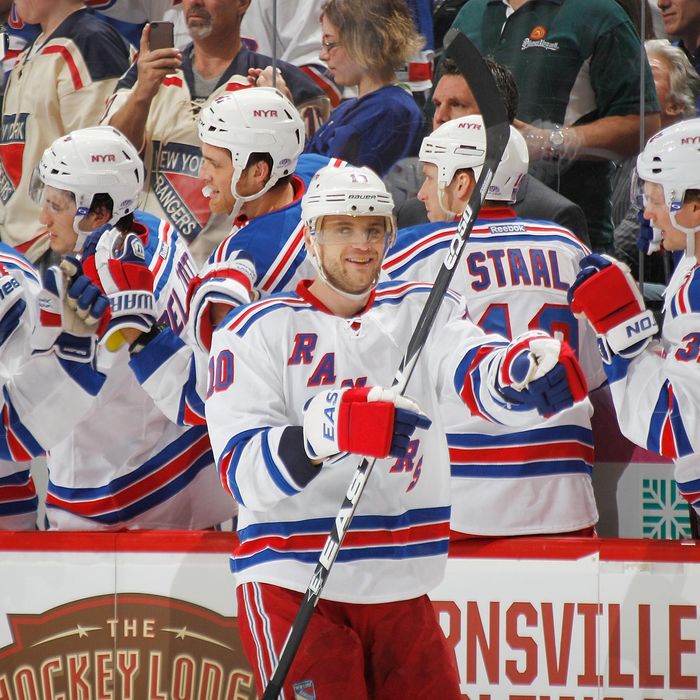 With five games remaining in the regular season, the Rangers are getting closer to securing the top spot in the Eastern Conference for the first time since 1994. As of Tuesday morning, the Rangers had just a one-point lead over the Penguins in the standings. But then they picked up road wins against the Wild and Jets, while the Pens lost both ends of a home-and-home with the Islanders. And so heading into tonight's games, the Rangers have a five-point lead over Pittsburgh, with a magic number of five to guarantee finishing ahead of Sidney Crosby and company. (The Flyers are mathematically still alive for the top spot as well, though they're seven points behind the Rangers with just five games to play.) But what happened this week that didn't keeping an eye on college hockey games?
The Knicks won in ugly fashion against the Bucks, then won in impressive fashion against the Magic.
We began our Mets season preview, as well as our Yankees season preview.
We looked at whether the Knicks are doomed without the injured Amar'e Stoudemire.
Tyson Chandler again topped our Knicks Power Rankings.
R.A. Dickey revealed in a new memoir that he was sexually abused as a child.
Patrick Ewing expressed interest in a head coaching job, be it with the Knicks or some other team.
Tim Tebow was introduced as a Jet.
And we chatted with baseball lifer Don Zimmer.
That's it for us. Have a great weekend.