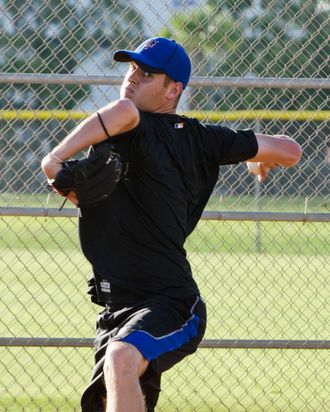 Our preview of the 2012 Mets season continues with a look at when we might see pitching prospects Zack Wheeler and Matt Harvey in Flushing.
For all the work that Sandy Alderson and company have to do on fixing the entire Mets franchise, so far their reign has been characterized more by moves they haven't made than ones they have. They didn't go overboard to pay Jose Reyes, they didn't trade him at the deadline last year, they didn't go out and sign any big names, they haven't done much moving at all. Now, much of this has been because of the various Mets payroll issues, but really, Alderson's main strategy has been to wait for the ugly Omar Minaya deals to expire. Not the worst strategy.
In fact, Alderson has only made one real major move since taking over: trading Carlos Beltran to the San Francisco Giants last year at the deadline for pitching prospect Zack Wheeler. Considering the Giants only had Beltran for two months and didn't even end up making the playoffs anyway, it's difficult to argue it wasn't a terrific trade for the Mets. Wheeler immediately rose to the top of the Mets' prospect rankings, and he's been the most compelling attraction all spring. The Mets now, with Wheeler and Matt Harvey, have two major starting pitching prospects who aren't far away. The question is when they're gonna make the trip to Flushing.
Wheeler, ranked No. 27 in Keith Law's prospect rankings, is considered the higher-ceiling pitcher. He can reach 97 or 98 with his fastball, and even though he hasn't nailed down his other pitches (his curveball is above average but lacks control), he has the classic frame of a No. 1 starter. He was alternately dominant and wild during the spring, and he still has considerable work to do. Every start he makes all season will be watched intently, and he'll begin the year at Double A Binghamton. He had a chance to make it up by September; he won't turn 22 until May 30. He has a chance to make it as a September call-up, depending on how he's progressing and how dire matters are at Citi Field.
Harvey, who has come up through the Mets system, might be closer. Ranked No. 38 by Law, he's a year older but has a full season of Double A behind him. He pitched excellent in Binghamton, striking out 156 in 135 and two-thirds innings. He's got a mid-90s fastball, but Law is most impressed with his curveball and his makeup. His ceiling isn't as high as Wheeler's, but he's a lot farther along. If the Mets need midseason rotation help — and something to get some butts in seats — and he has pitched well in Buffalo (where he'll begin the year), you might see him shortly after his birthday.
It's probably going to be a rough year for the Mets, and the highlights of any rough year are in watching the top prospects work their way to the big club. The Mets have two top-tier pitching prospects who are close. Watching them inch closer to Flushing, at the very least, gives Mets fans something to do. It gives them hope.