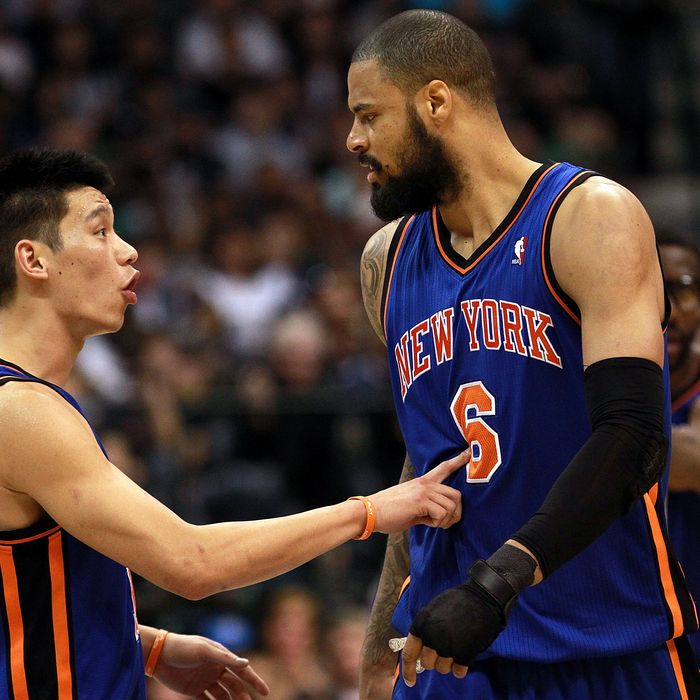 Sometimes we can't tell if the Knicks are happy or sad.
The general consensus — the only real explanation, all told — is that the Knicks are in a blissful post-D'Antoni, pro-Woodson honeymoon phase right now. Since the "resignation" of coach Mike D'Antoni and the installation of Mike Woodson as his replacement, the Knicks have won three in a row, all three in convincing, relaxing fashion. Now, maybe you believe that Mike D'Antoni is the worst coach in the world and Mike Woodson is the best; if so, this all makes so much sense to you. Congratulations on being a genius. If not, though, we appear to be firmly ensconced in a good old-fashioned New  Coach Bounce. It's an era of good feeling once a change is made. It's a honeymoon. And eventually it'll end. But when?
Why do we know it has to end? Because it just wouldn't be this year's Knicks team if it didn't have a stretch in which it made its fans feel like it was unbeatable, followed almost immediately by a losing stretch that'll make you want to openly revolt. The Knicks have had winning streaks this year of four games, seven games, and now three games. (That encapsulates two-thirds of their total wins, if you can believe that.) They've also had losing streaks of six games, three games, and six games again. This is not a stable team. There's no reason the Knicks should start being stable now.
So, when does this honeymoon end? The way this has worked all season: Once the Knicks hit some adversity, everybody freaks out, and next thing you know, one of the tabloids claims that Carmelo Anthony is butting heads with Tina Cervasio, Clyde Frazier, and the New York Liberty dance team. So, when's it gonna happen?
The schedule is not awful over the next week or so. Tonight the Knicks face the Raptors, and as much as it makes sense that they'd have a crushing, inexplicable home loss right around this time (it has been the modus operandi all year), we still think the Knicks will win tonight. They're on the road against Philadelphia tomorrow, and as rough (and potentially likely) a loss as that might be, it's still a tough game the Knicks couldn't get too down about. Naw … we're eying that home game against Milwaukee on Monday the 26th. If the Knicks lose that, everyone will start losing their minds again. The Knicks will have to upset the Magic and the Hawks just to get the narrative back up so it can be knocked down again. The honeymoon will end. Then there will be another one. This year is exhausting.