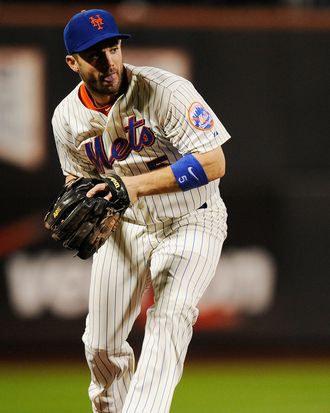 Our preview of the 2012 Mets season continues with a look at who might be traded at the deadline.
Not to be a downer here, but it's fair to say that it's highly unlikely the Mets are going to win a World Series this year. (We're being kind. It's highly unlikely the Mets are going to have a winning record, but we're starting at the top and working down.) Since the goal of any baseball team is to win a World Series, any season in which you know going in that you're not going to win a World Series exists only to get you closer to win a future one. Which means it's often going to result in a roster purge.
The Mets are trying to build up their farm system, and the best, quickest way to do that is to trade away players whose contracts are expiring or who just aren't going to be part of the next championship team. Come July, the Mets are going to be out of the playoffs and ready to deal. Who's likely to go? Let's take a gander.
R.A. Dickey. The knuckleballer is incredibly popular as well as being the Mets' steadiest pitcher, and he's also signed to a team-friendly deal. (He's signed through this year, with a $5 million option for next year.) But another team would find that deal plenty friendly too, particularly one that finds itself short a pitcher or two at the deadline. Dickey has been a cheap, perfectly profitable option for the Mets for two years now: cost-efficient, fan-friendly, and Kilimanjaro-climbing. But knuckleballers not named Tim Wakefield tend to be perishable. The Mets have come out ahead already on the Dickey deal(s). If they could get a top prospect for him come July, they'd have to do it.
Frank Francisco. Yeah, yeah, we know, they just got this guy. (He hasn't even thrown a pitch for them yet.) But the value of a closer is never higher than at the trade deadline, and inevitably, some contender is going to feel they're one bullpen guy away from running away with the division. If Francisco can have a solid year for the Mets – and every sign so far seems to imply he will – his contract for next year ($6.5 million) is high but not unreasonable. Teams get awfully desperate for bullpen help at the deadline.
David Wright. And here's the big one. Wright has a $16 million club option for next year, or a $1 million buyout, but he has the right to void that if he's traded. Depending on what kind of year he has, he might not want to, but the point is, Wright is the most marketable commodity the Mets have. Plus, if he can generate a few more homers with the moved-in fences, he could be even more desirable. Last year, they got Zack Wheeler — who instantly became their top prospect — for Carlos Beltran. You'd have to think they could get more for Wright, right? Particularly with the second wild card making fewer teams willing to sell at the deadline, making all available properties that much more valuable. Everybody loves David Wright — they do, right? — but if the Mets want to make their team better and build the next Mets championship team, it's tough to argue that Wright should stay. If José Reyes didn't stay, why should Wright?
Oh, and sorry: As much as the Mets would love for someone to take Johan Santana's and Jason Bay's contracts off their hands, one should not hold one's breath. (You shouldn't hold your breath anyway. It's unhealthy.)