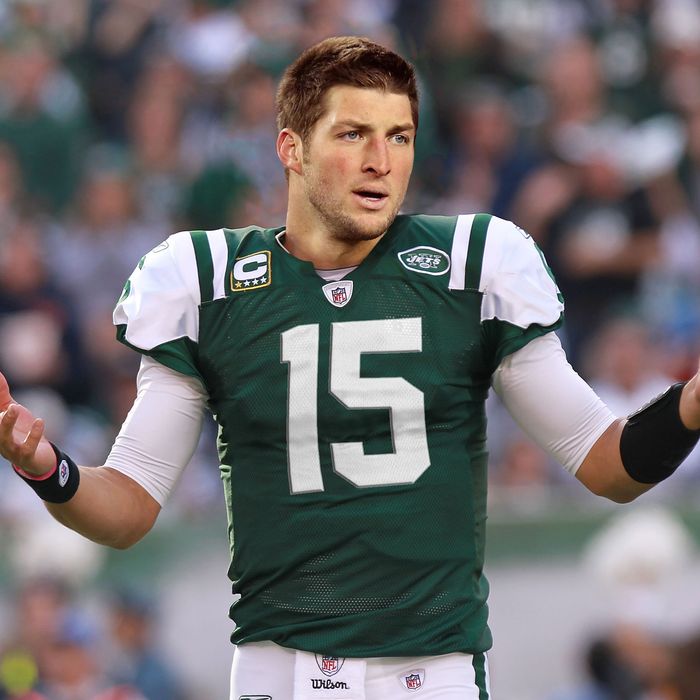 So, the sporting landscape of this city just got a dramatic facelift — you might say the face was lifted by God himself — with the Jets' loony trade for Tim Tebow. (Assuming it goes through, our job for the next year just got a lot more exciting/annoying, that's for sure.) The Jets just went all-in on Tebow … we think? It's such a crazy decision for the Jets to make that it's gonna take a while to unpack all of it. For now, let's take a look at five reasons why it might be a good idea and five why it might be a disaster.
Reasons It Might Work
1. The Jets have the perfect wildcat offensive coordinator. At this point we feel obliged to point out that the "wildcat" formation is really just "hiking the ball to someone other than your traditional quarterback." But the recent popularity of the "formation" was started by Tony Sparano, who was just fired by the Miami Dolphins and is now the Jets' offensive coordinator. The Jets have always had plays run for a non-traditional quarterback from when Brad Smith was here, and they'll just be expanded now. This assumes, of course, that Tebow will not become the Jets' actual quarterback, but we'll get to that in a bit.
2. It puts pressure on Mark Sanchez. The primary criticism of how the Jets have handled Sanchez is that they've never made him work for anything. He has basically had the starting job since he was drafted, and there has never been a serious competition for his job. Well, the Jets just brought in the most popular quarterback in the NFL. One suspects Sanchez will notice.
3. They didn't give up anything. A fourth- and a sixth-round pick is nothing, and that's not even accounting for the extra seventh-round pick they got. Tebow wasn't free, but he was close.

4. Fans are going to love him. Fans haven't always loved Sanchez. But fans always love Tebow. The Jets now have the player with the highest-selling jersey in the NFL on their team. You couldn't raise the franchise's profile next season much higher were you to hire Jesus Christ himself to play quarterback.

5. The guy is a winner, and his teammates love him. Debate the importance and relevance of quarterback wins all you want, but Tebow turned the Broncos around last year. It wasn't by his arm, either. To a man, other players love playing with Tebow. Even when Tebow wasn't playing well last year, the Broncos were a better team with him than they were with anyone else. Few Jets have a lot of faith in Mark Sanchez. Teammates always love Tebow, even when sometimes they shouldn't.
Reasons It Might Not Work
1. It's a sign the Jets have no plan. The Jets signed Mark Sanchez to a contract extension just last week. They hired an extensive coaching staff with a playbook specifically designed for Sanchez, one of the reasons they were initially hesitant to go after Peyton Manning. They have talked this whole off-season about continuity and faith in their quarterback. They paid $500,000 for Drew Stanton to back him up. And now they've just said, "Oooh, Tebow!" the minute his name popped up.
2. You might have just ruined Mark Sanchez. The main issue with Sanchez last year, as he tells it, was that he didn't always have confidence that his team and his fans always believed in him. Now the Jets have brought in a quarterback who is more popular and more beloved by his teammates. Every single question Sanchez is asked over the next year of his life is going to be some variation on "So, Tim Tebow?" Oh, and also, the wildcat isn't nearly as big a deal as it used to be; most defenses have adjusted to it.
3. Tebow is a walking distraction. The Jets will have to evaluate what they have in Tebow, how they plan to use him, but know that, no matter what happens, they will have to use him. If he's slated as just a change-of-pace wildcat guy, everyone will count his snaps (and secretly wonder when he's going to take over for Sanchez). If he's the officially stated backup, everyone will just assume he'll be starting and will scream for it after every Sanchez interception. Tebow is about to dominate every conversation about the Jets. Looked at it that way, the fourth- and sixth-round picks almost seem expensive.
4. It instantly divides everyone involved with the Jets. This is going to be a Team Sanchez vs. Team Tebow thing immediately. (It already is, actually.) This is the worst scenario for a locker room that was supposedly full of people trying to kill each other last year. Looked at through this lens, honestly, the only way this works out is if Sanchez is terrible and when Tebow replaces Sanchez, Tebow is instantly brilliant. Which leads us to the biggest question about Tebow of all …

5. It is very possible that Tebow is a horrible professional quarterback who has benefited from an unprecedented run of good fortune, with an inevitable (and potentially gruesome) regression to the mean imminent. Worth noting.
So, yeah: Let's see how this all works out.