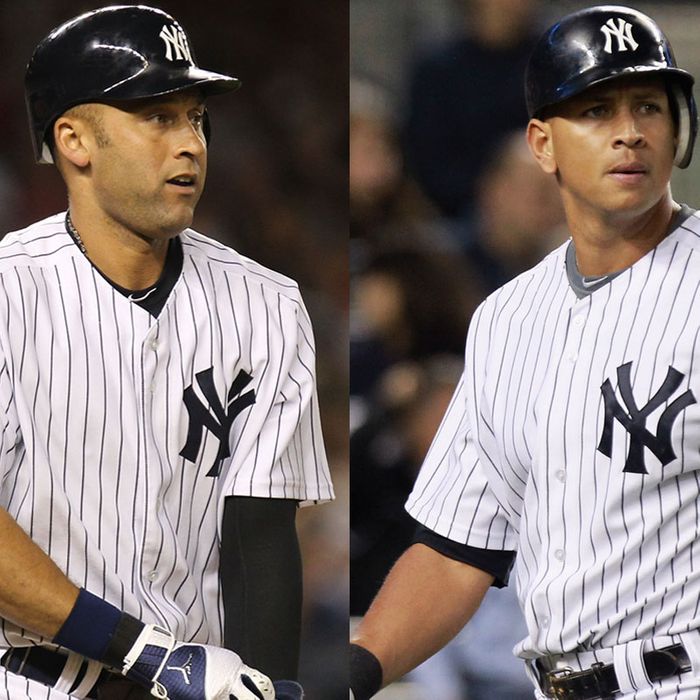 Derek Jeter and Alex Rodriguez.
Our preview of the 2012 Yankees season continues with a look at aging infielders Derek Jeter and Alex Rodriguez.
When the Yankees break camp, their roster will likely include eight players over the age of 34, not including Andy Pettitte, who won't be ready to join the team until after the regular season begins. Some of those eight — like Eric Chavez and Freddy Garcia — won't begin the season with a ton of responsibility, though that could change if the team has to deal with injuries. Others — like Andruw Jones and Raul Ibanez — were brought in with the understanding that they're past their prime but at least have contracts that reflect that. We'll look at Hiroki Kuroda, 37, in another post when we discuss the team's rotation. And Mariano Rivera, now 42, has been defying age for years. Which, of course, leaves Derek Jeter and Alex Rodriguez.
Jeter turns 38 in June, while A-Rod will turn 37 in July. But as the 2012 season begins, different questions surround the two infielders. Jeter, for instance, started out 2011 exactly as we feared he would, coming off a season in which his OPS dropped a whopping 161 points: When he went on the disabled list in June, after playing in 62 games, he was batting just .260, with an OPS of just .649. But in 69 games after returning from his injury, he would hit .331 with an OPS of .831.
Perhaps it's because he was doing a better job of hitting the fastball. Perhaps it had to do with not being such an extreme ground-ball-hitter. Maybe getting his 3,000th hit over with was weighing on him more than we knew. But whereas at the beginning of 2011 we worried that Jeter's offensive numbers would continue to rapidly decline, last year showed us that at least he's still capable of hitting at a high level for at least a few months. He's a year older now, of course — and that won't help him in the field — but there's reason to be cautiously optimistic, based on what we saw at the end of last season. We don't expect him to hit .330 or anything, but PECOTA projects him to hit.285 with an OPS of .731. We'll take that. (Projections for Jeter are sort of all over the place: ZiPS has him batting .268 with an OPS of .691, while Bill James has him hitting .291 with an OPS of .753. So take all of this for what it's worth. But we'll say this much: We're more optimistic about his season than we were a year ago.)
The biggest question surrounding Alex Rodriguez, meanwhile, might have to do with whether he can stay healthy. He played in just 99 games last year and hasn't appeared in more than 140 since 2007. He's past his prime, but when he's healthy, he's still capable of being a dangerous hitter. See his 2011 season, for example: He hit thirteen home runs in his first 58 games — a rate that comes out to 37 over a full 162 games — but then a knee injury would sap him of his power. He wouldn't hit a home run in his next 22 games and then would spend a month and a half on the disabled list. His numbers were ugly when he returned: He'd bat just .191 over his final nineteen games, with three homers and two doubles. (By comparison, he batted .295 in 80 games before landing on the DL.) The problem with all of this, of course, is that injuries could become even more of a concern as Rodriguez advances into his late thirties.
This seems like a good place to remind you that Rodriguez is signed through the 2017 season. And so if he is indeed breaking down physically, this is something we could find ourselves discussing again next year, and the year after that, and the year after that …