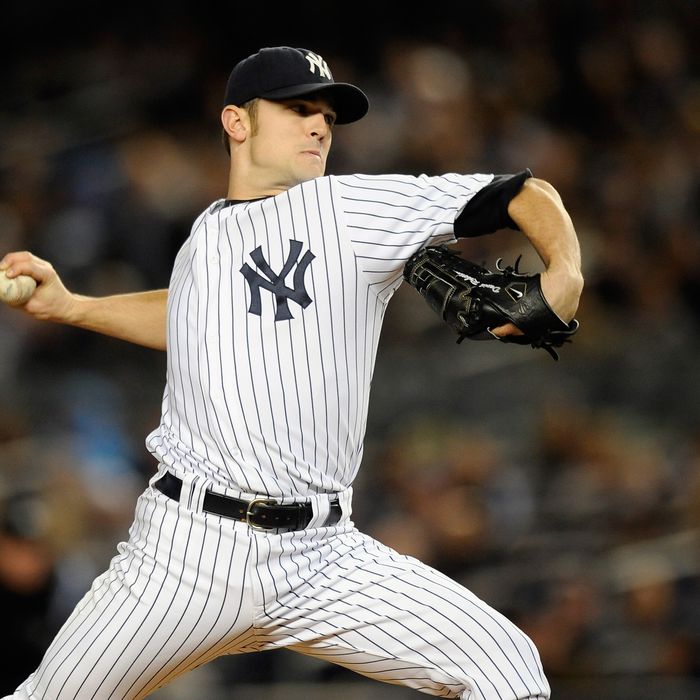 Our preview of the 2012 Yankees season begins with a look at the battle to become the poor guy who replaces Mariano Rivera, if he decides to retire.
Mariano Rivera knows whether he's going to retire at the end of the season, and says he thinks he'll reveal that decision before the All-Star break. But earlier this spring, he hinted that this would indeed be his last season, and that would mean, at this time next year, we'll be talking about the poor bastard who will be replacing the best closer who ever lived. In turn, that means this season could become something of a yearlong audition to identify who exactly that poor bastard — the one who will inevitably be compared to Mariano Freaking Rivera — will be.
All things considered, the Yankees could be in worse shape here. They won't replace Rivera with anyone quite so dominant — at least not unless Hal Steinbrenner makes great strides on the arm-cloning machine we assume he's developing somewhere in a bunker in Tampa — but they do have a pair of internal candidates. And if David Robertson has the kind of season he had last year — in which he set career-bests in ERA, innings pitched, WHIP, K/9, and strikeout-to-walk ratio — one imagines he'd be the front-runner for the job.
But it was only a year ago that Rafael Soriano — who was given closer money to set up for Rivera — was considered a strong candidate to be Mariano's successor. By the end of last season, his role as the seventh-inning pitcher was pretty clearly defined (and thus his place in the relief-pitcher pecking order was pretty well established), but should Robertson's numbers slip, and if he turns in a strong season, he'll be in the running as well, especially considering his experience closing games for Tampa Bay. (There's also the argument — spelled out by Wallace Matthews here — that Soriano should get the job, because whoever replaces Rivera is essentially being set up to fail, and better it be Soriano in his walk year than Robertson, whom the Yankees have long-term hopes for. But as much as we don't envy the guy taking over for Rivera, it's hard to buy into a plan that involves giving the job to a less-qualified candidate. And Matthews himself admits that right now, that's what Soriano is.)
The Yankees have had several pitchers stake claim to the eighth inning over the past several years — remember when it looked like Joba Chamberlain might be Rivera's heir apparent? — but this year, if it is indeed Rivera's last, the performance of the bullpen will not only determine who pitches in which spot throughout the season. If the Yankees decide to replace Rivera from within the organization — and for a team trying to lower its payroll, it would make sense to do that if possible — every blown save or Houdini-like escape from a jam becomes a data point to be used when making decisions about the team's next closer once Rivera's Hall of Fame–induction clock officially starts ticking.