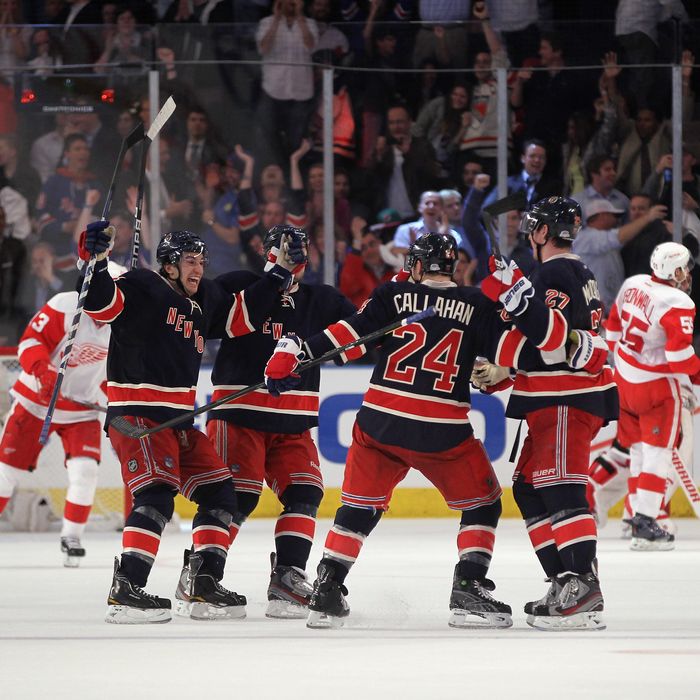 The Rangers celebrate an overtime win over Detroit last month.
Last night, the Rangers clinched the No. 1 seed in the Eastern Conference with a win over the Flyers in Philadelphia. And so in honor of their 51-22-7 record through 80 games, here are 51 reasons the Rangers are going into the playoffs as the top seed for the first time since the Stanley Cup year of 1994.
1. Henrik Lundqvist is having a career year, on pace to finish with career-highs in both save percentage and goals-aganist average.
2. Martin Biron, meanwhile, has been solid as his back-up (and also stayed healthy), thereby allowing Lundqvist to get more rest than in any season since his rookie year.
3. Their record against the rival Flyers? A perfect 6-0-0.
4. Their record in the second-half of back-to-backs? An impressive 10-2-2.
5. Marian Gaborik bounced back from a rough season in a big way: He's one goal shy of tying his career high of 42 goals.
6. For a while this season, the top line of Gaborik, Derek Stepan, and Artem Anisimov really clicked.
7. Later on, the line of Gaborik, Brad Richards, and Carl Hagelin impressed as well.
8. They didn't appear all that distracted by HBO's cameras: They went 9-4-1 while being filmed for 24/7.
9. The emergence of Dan Girardi as an All-Star, shut-down defenseman, especially with Marc Staal missing so much time.
10. Ryan Callahan's grandma. We're not totally sure how it helps, but we're glad she's on their side.
11. Ryan McDonagh, bumped up to the top defensive pair, had an excellent sophomore season, and showed a little bit of offensive skill as well.
12. Players at Connecticut of the AHL are taught the NHL club's system, allowing for the mostly seemless integration of guys like Carl Hagelin and John Mitchell.
13. The penalty kill has been stellar: It's fifth best in the league, at 86.3 percent.
14. The team's key forwards avoided any major injuries, which was key for a team that can struggle at times to light the lamp.
15. They beat up on the Southeast Division, posting a record of 15-2-2 (with one game against Washington remaining).
16. They got past the trade deadline without doing anything harmful to the team, either in short- or long-term.
17. This team has an edge to it, and they're willing and able to fight: They lead the NHL with 65 fighting majors.
18. They also spread the fighting around a bit: Brandon Prust leads the NHL with twenty fighting majors, but Mike Rupp and Stu Bickel are tied for tenth and thirteenth, respectively.
19. While we're on the subject of fighting: Prust is a perfect example of a modern NHL enforcer. He can drop the gloves, but he's useful in other aspects of the game as well, such as on the penalty kill.
20. Ryan Callahan has been everything they've hoped for as a captain.
21. Callahan brings more than intangibles like leadership, though: He's a goal shy of reaching 30 for the first time.
22. John Tortorella has instituted the right system for the right group of players.
23. Brad Richards finished strong: His 22 points in March were second only to Evgeni Malkin.
24. They held onto leads: They're 30-0-3 when leading after two periods.
25. They won eight of ten games decided during the five minute overtime, which is particularly important for a team that didn't actually fare all that well in shootouts.
26. Win streaks help build a cushion in the standings: They won seven straight games from October 31 through November 15.
27. Then they won five more in a row from November 25th through December 3.
28. Then came five more consecutive victories from December 17 through December 26.
29. Then came another five-game winning streak, from December 30 through January 10.
30. Once the surging Penguins started to cool off, the Rangers got hot again, winning six of seven from March 19 through March 30.
31. It probably didn't hurt that the Penguins weren't at full strength for much of the season, and it definitely didn't hurt when the Pens lost twice to the Islanders last week.
32. Michael Del Zotto, who struggled in his second NHL season last year, proved he belongs in the NHL.
33. By all accounts, there's terrific chemistry in the locker room.
34. Glen Sather has built this team the right way, with a nice mix of homegrown talent and free-agent acquisitions.
35. Speaking of GMs, this year's club can thank former Montreal GM Bob Gainey once again for the Scott Gomez trade that cleared cap space for Gaborik, brought in McDonagh, and also brought in a piece that would be used in the trade that acquired Prust.
36. Sather's also been able to work the salary cap system, most notably by burying Wade Redden and his huge contract in the minors.
37. Carl Hagelin's speed. Did it surprise anyone when he won the fastest skater competition at the All-Star Game?
38. The team's shootout record wasn't great, but Marian Gaborik has suddenly become a weapon in them.
39. Every extra point helps, like the one they earned on March 2 when Brandon Dubinsky tied a game in Tampa with 3:27 remaining (before they'd go on to lose in overtime).
40. Richards has been clutch, notching nine game-winning goals, tied for fourth best in the league.
41. One of the players Richards is tied with in the game-winning goal department? His teammate Callahan.
42. Girardi has logged an average of 26:19 a game, but thankfully hasn't collapsed yet.
43. The Rangers lead the league in hits.
44. They're also second in blocked shots.
45. They've got the third-best winning percentage in the league when scoring first (.814).
46. They've also got the second-best winning percentage in the league in games in which they allow the first goal (.432).
47. Every once in a while, at least, the power play looks competent and then some (and those nights are happening with a bit more frequency of late).
48. Lundqvist has to this point made it through another season without injuring himself by stopping the puck with his helmet, so that's nice.
49. Good-guy Brian Boyle is stepping up his game as the playoffs approach: He's got four goals in his last seven games.
50. This is good, right? Derek Stepan's face-off percentage improved from a woeful 38.5 percent to a somewhat more acceptable 44.6 percent.
51. If nothing else, the pre-season trip to Europe gave this team the Broadway Hat, and a way for guys to be acknowledged by their teammates for their effort.