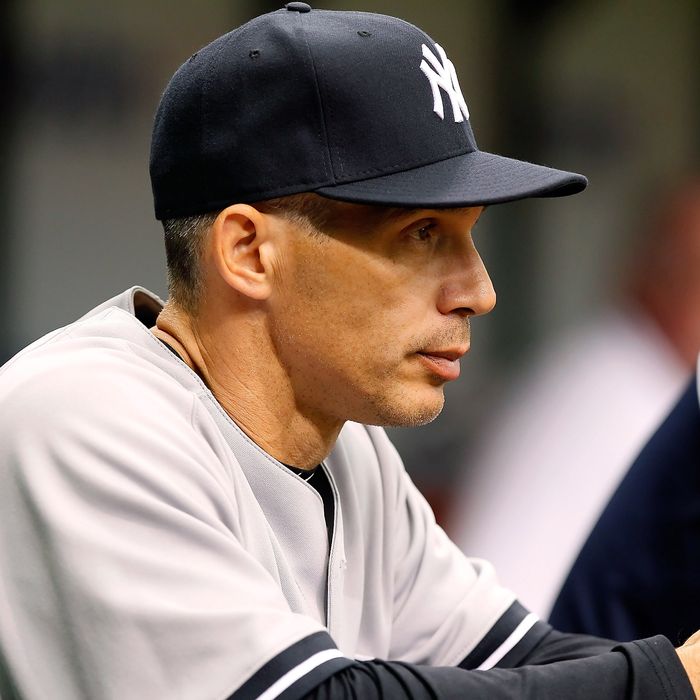 The Yankees have played three games and lost them all, and best we can tell, folks aren't really panicking yet because, to repeat, they've played only three games. This weekend we saw CC Sabathia and Hiroki Kuroda struggle, and we saw Mariano Rivera blow a save. Phil Hughes wasn't especially efficient yesterday, and Jeremy Hellickson shut down the Yankee bats to complete the Rays sweep. None of that was much fun, but again — it's three games. We think most people understand this.
In fact, if you've read anything about the Yankees since yesterday's series finale in St. Pete, you might have noticed a trend: not panic, but an acknowledgement that if George Steinbrenner were still in charge, he'd be pissed off right now. Here's the Daily News touching on the subject, and the Post, and Sweeny Murti, and Yankees blog Was Watching. This actually seems like a healthy alternative to losing one's mind after the first three of 162 games. Instead, we can just recall a time when three games really might have landed the manager on the hot seat. Talking about unnecessary panic from the past is preferable to actively panicking in the present. Perhaps under George Steinbrenner there was a sense of urgency that's now gone (as David Cone suggested to the News), but overreaction isn't ideal either. And we don't expect that Hal Steinbrenner is going to overreact.
The Yankees visit Baltimore tonight to face the 3-0 Baltimore Orioles. We're not worried about the Yankees ourselves, but considering the O's and Mets (two teams generally picked to finish last) are undefeated, and considering the Yankees and Red Sox (two teams that have spent an awful lot of money to compete for a playoff spot) are winless, we're at least open to the idea that we've entered some sort of bizarro baseball universe in which up is down and down is up. In which case, congratulations in advance to your 2012 World Champions, the Houson Astros.