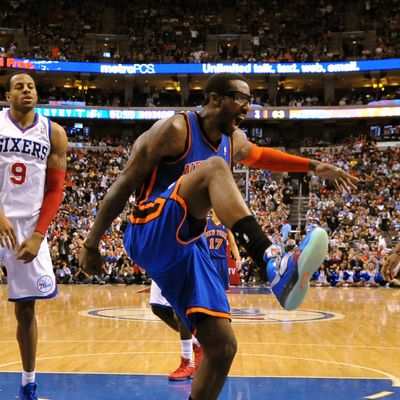 From the Ministry of Silly Walks …
We don't know yet for sure, but it's looking possible that Amar'e Stoudemire will return tonight against the Cleveland Cavaliers, or at least on Sunday against the Atlanta Hawks. This is noteworthy not just because all MSG personalities will work really hard to say bulging disc tonight but also because Amar'e hasn't played since March 24 and has been known to have some trouble meshing with Carmelo Anthony. Now, it used to be that we all used to yell at Carmelo for not fitting his game with other players, but now Carmelo's playing as well as anyone in the NBA — out of the Amar'e power forward spot, no less — so it's Amar'e's problem now. We've even heard some rumblings that Amar'e's return is somehow a problem. We all forget pretty quickly.
Much of the fear about Amar'e's return appears to be wrapped up in the Carmelo–at-power-forward issue, and it's true that Carmelo's game has been a better fit the last few weeks at the four, mainly because there just aren't any big-arse Karl Malone fours anymore. (If they're that size, they play the five.) And it is true that Carmelo and Amar'e haven't always meshed as well as they were intended to.
But to this, we have two retorts:
1. This is a different Carmelo. Carmelo has never really meshed with anybody since he got to the Knicks … until these few weeks with Mike Woodson, when he decided, "Okay, I'll play hard now that D'Antoni is gone." Now Carmelo is hitting shots, finding the open man, and playing hard defense — the best defense of his career. This is an easier Carmelo to play with now. Sure, it'll take some adjustments, which is why Amar'e has four games to fidget with before the playoffs start. But the offense with Carmelo now is different from how it has ever been with Carmelo.

2. It's Amar'e! Stoudemire has had more than his fair share of struggles this year, in large part because he worked too hard to rehab his back in the off-season and came back slow and unexplosive. But that issue was resolving itself after the All-Star Break, and we were seeing glimpses of the old Amar'e again. Obviously, Amar'e isn't going to be 100 percent right from the get-go, but if there's a way to make this work, the way Amar'e has been pushing himself since mid-season, he'll find it. Don't forget the intensity Amar'e was showing during the end of the D'Antoni era, even when no one else on the team was following him. This is still Amar'e Stoudemire, the guy whose arrival in New York started this pseudo-turnaround, the one that has taken them to the playoffs two straight years now. Stoudemire might not be the old Amar'e … but he's still Amar'e.
Also, Amar'e is far from an elite rebounder, but he is still something; the endless offensive rebounding should at least abate somewhat. The real question is not whether or not the Knicks will be better with Amar'e but whether they will be better with him down the stretch. The ideal crunch time lineup for Woodson has been having Iman Shumpert bring the ball up the court, give it to Carmelo on the wing, and have him either create himself or find J.R. Smith or Steve Novak open from long range. (While Tyson Chandler, who might make the Olympic team now, by the way, cleans matters up underneath.) Where Amar'e fits in there is open for debate: Our guess is that if the plays down the stretch at all — and Woodson might give him that off as he works his way in — he'll take Novak's spot. And we'll continue to hope that Woodson doesn't play Baron Davis late like he tried to in the Miami loss.
But yeah: Amar'e's back! You love Ama're! Lest we forget. Besides: He has the braids back! It's high school Amar'e again! How can you not cheer for that guy?
(By the way: We'll know by Monday whether or not the Knicks are still in the hunt for the No. 6 spot. If they're not, it might be time to let everybody take a nap for a week, because the games won't matter. Except for Amar'e, of course.)