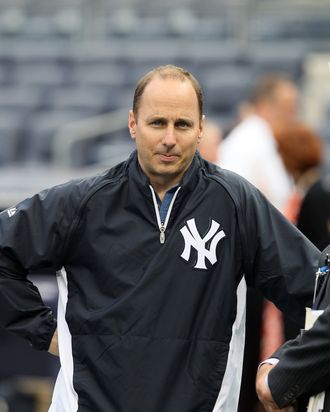 Since taking over as Yankees general manager prior to the 1998 season, Brian Cashman's teams have made the playoffs in thirteen of fourteen seasons. They've won division titles and A.L. pennants and World Series rings, and they begin every season with championship hopes. But over that same period, it's remarkable how many missteps Cashman has made in assembling his starting rotation. The latest bit of bad news came yesterday, when we learned that Michael Pineda — acquired in a trade this winter for Hector Noesi and the highly touted Jesus Montero — would undergo surgery to repair a labrum tear in his right shoulder and would miss the entire 2012 season.
Is it possible that Pineda will recover from surgery and eventually become a key part of the rotation? Sure. But he won't throw his first meaningful pitch for the Yankees until at least May of 2013, and this is hardly the first time a Cashman pitching acquisition hasn't turned out the way he'd hoped. What's particularly bizarre is that it's not a problem with his philosophy: He seems to understand the importance of starting pitching and has gone about getting it in many different ways. But his various strategies have resulted in one bust after the next, and while Pineda shouldn't join that group quite yet, he's off to the worst imaginable start.
The Yankees, of course, have a well-deserved reputation as big-spenders, and plenty of the Steinbrenners' money in the past decade-plus has gone toward starting-pitching. Yet, for every CC Sabathia or Mike Mussina — two of the few big-money free-agent starters who earned their paychecks with consistent, high-quality pitching — there's a Carl Pavano or an A.J. Burnett or a Kei Igawa, who earned the ire of Yankees fans because of ineffectiveness, inconsistency, or injury. (It should be noted that bad luck plays a part in this. Injuries happen, and while high-risk players exist, many times these things are unpredictable.) Orlando Hernandez was a key member of multiple Yankees championship teams; José Contreras (despite all the hype surrounding his signing) wasn't.
But one can't fault Cashman for simply trying to buy a rotation and guessing incorrectly on too many occasions, because that hasn't been his only method of acquiring starters. He's brought in veteran arms via trade on several occasions, but again, his history is spotty. Roger Clemens for David Wells in 1999 worked out, but bringing in the likes of Randy Johnson and Kevin Brown late in their careers provided mixed results, and they certainly weren't long-term solutions.
Perhaps most frustrating is that Cashman seems to understand the value of a young, effective starting pitcher. In 2008, the Yankees started the season with a rotation that included both Phil Hughes and Joba Chamberlain — a pair of homegrown pitchers with considerable hype who Cashman surely hoped would anchor the rotation for years. Injuries derailed that plan — as did the uncertainty of how the team would use those pitchers — and right now, neither looks to be a big part of this team's future: Joba is on the disabled list following Tommy John surgery and a freak trampoline accident, while Hughes has been pitching himself out of the rotation so far this year, after a disappointing 2011 campaign. Cashman could have sold high and moved these pitchers for a nice haul when they were younger, but we're not necessarily second-guessing him here. We applaud his desire to develop pitchers from within the organization. But several years into their careers, it's apparent that neither has had the impact Cashman once hoped. (Remember when Hughes was nicknamed "the Franchise" and Chamberlain was responsible for countless "Joba Rules" shirts inside Yankee Stadium? Ah, those were the days.)
Cashman has even tried on several occasions to part with assets to acquire young pitching. This is the category that Pineda falls into, and it also includes pitchers like Jeff Weaver and Javier Vazquez, both among the least popular men to wear pinstripes in recent memory. Like we said, this isn't a question of philosophy. Cashman's tried to spend, and he's tried to develop, and he's tried making trades for arms both young and old.
On the whole, we don't consider Cashman a bad G.M. But even as he's pieced together competitive teams year after year, getting arms for the rotation has been a struggle. Ideally, a general manager wants a starter who will take the ball every five days for years. Collecting those, after all, means not having to address multiple rotation spots every off-season. But some of Cashman's better pitching moves in recent seasons have been on older pitchers he's taken a flier on, like Freddy Garcia and Bartolo Colón, who both exceeded expectations in 2011 when others in the rotation faltered. Even Hiroki Kuroda — who's pitched to mixed results thus far this season — is 37 and working on a one-year contract. He was never intended to be a long-term solution.
Right now, the most promising young arm on the staff is Ivan Nova, who's gotten off to a good start in 2012 after a strong 2011 season. He's the type of pitcher Cashman would like to develop more of: He's young, reliable, and, to this point in his career, mostly healthy. (It's that third thing that derailed the career of Chien-Ming Wang, once a promising young pitcher himself.) Nova might not have a Cy-Young–level ceiling, but last year, he drew comparisons to Andy Pettitte, and Cashman would be thrilled if Nova's career turned out like that of the popular lefty. Speaking of Pettitte: He's down in the minors right now and is aiming to return to the Yankees sometime next month, though one wonders how many times Cashman can successfully go back to that well.