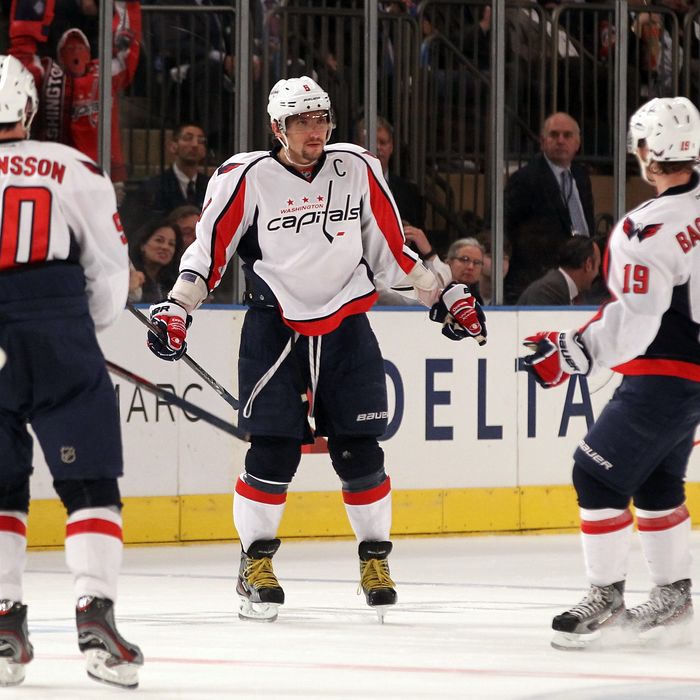 Alex Ovechkin celebrates his game-winning goal.
Sometimes, hockey is a game of quarter-inches. In Game 1 against the Capitals on Saturday, Henrik Lundqvist stopped all but one shot on goal but got some help from his goalposts in a 3-1 Rangers victory. And in Game 2 tonight, it was Braden Holtby who got some assistance: With the Rangers down by a goal in the final minute, Michael Del Zotto rang a shot off the crossbar — the second time he'd hit iron in the game. There's no sense in playing the "What if?" game; after all, if we learned anything from Gordon Bombay, it's that a quarter-inch in the other direction and MDZ might have missed the net completely. And so, after a 3-2 Capitals win in Game 2, this Eastern Conference Semifinal is knotted at one.
The Rangers trailed by a goal entering the third period — Stu Bickel was nailed to the bench after Washington's first goal, and Lundqvist was reminded on the second one why he might be better off if he never ventured behind the net — but they'd gotten a handful of quality scoring chances beyond the one they cashed in on late in the first period, when Marian Gaborik fed Brad Richards for the goal that cut Washington's lead to one. Birthday boy Chris Kreider had a breakaway shot denied by Holtby — who was much better than he was in Game 1, though he'd pretty much have to be — and Mike Rupp had a golden one-on-one opportunity turned away in the second period.
New York would tie the score on the power play — this was very encouraging — but shortly after killing off a Brian Boyle holding-the-stick penalty, they'd be forced to try to kill off a Brad Richards holding penalty. This time, Washington would make them pay, with Nicklas Backstrom winning a face-off and then interfering with Boyle just enough to give Alex Ovechkin a chance to get a shot off from the point without a defender getting in his way. Ovechkin would find the net with his shot, and the Caps would take a 3-2 lead. Minutes later — also off a face-off — the Rangers would win the puck back to Del Zotto, whose point shot would also get behind the goaltender. But instead of finding net, his shot hit the aforementioned iron of the crossbar. Like we said, sometimes, this is a game of quarter-inches.
This game saw some nice defensive plays — Ryan McDonagh cleanly breaking up a Jason Chimera breakaway on a third-period delayed penalty call stands out — but scoring opportunities weren't quite as hard to come by in Game 2 as they were on Saturday night: The Rangers took 28 shots in this one to Washington's 25. By comparison, the teams combined for 32 shots in Game 1.
If nothing else, this game serves as a reminder that, for as much as Washington has changed their style of play — gone is the fire wagon hockey of years past — Ovechkin can still make a team pay if he gets an opportunity. (Judging by No. 8's hand-to-ear goal celebration, we're guessing he's been taking note of those "Ovie sucks" chants with eight minutes remaining in each period. Ovechkin, by the way, had a game-high seven shots on goal in this one, despite getting just 13:36 of ice time. By comparison, in Game 1, he registered just one shot.) We're not surprised that the Caps answered back after a defeat in Game 1 — just like in the Conference Quarterfinals, we expect this to be a long, tension-filled series — but it's encouraging for the Capitals that Holtby appeared to right his ship after a shaky Game 1.
And so, on we go to Washington now. The Caps, for whatever it's worth in this wild postseason, have gained home-ice advantage with their win on Garden ice. Game 3 is scheduled for Wednesday night at the Verizon Center.