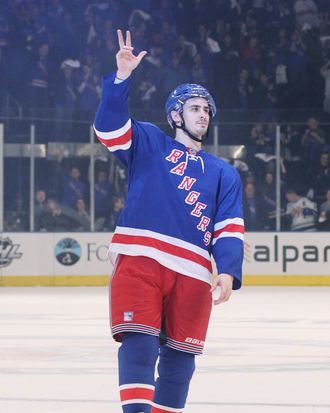 Chris Kreider, after Game 1 against Washington.
We got into this a bit on Saturday night after the Rangers defeated the Capitals in Game 1 of the Eastern Conference Semifinals, but Chris Kreider has had a pretty wild month. He began April as student at Boston College preparing to play in the Frozen Four, and he'll end the month tonight as the Garden's newest fan favorite — a rookie sensation who's notched the game-winning goal in two of the six professional games in which he's played. Here, now, a look at Chris Kreider's April.
April 5: Eleven days after defeating Minnesota-Duluth to advance to the Frozen Four, Boston College takes on the Minnesota Golden Gophers in the national semifinal. Rangers assistant general manager Jeff Gorton was reportedly in Tampa Bay and prepared to discuss a contract with Kreider if the Eagles lost, but they'd go on to rout Minnesota, 6-1. Kreider scored a goal and an assist in the game, but BC's victory meant there would be no chance of the highly touted prospect joining the Rangers in time to play a regular-season game with the team.
April 7: Hours after the Rangers wrapped up their regular season with a loss to Braden Holtby and the Washington Capitals, Kreider's Eagles captured the school's fifth national title. It's Kreider's second NCAA championship with BC, though unlike 2010, he didn't score in the title game.
April 8: Via ESPN, "Kreider took one night to celebrate the victory, then settled down with his family to make a decision." He reportedly made sure he wouldn't lose any college credits, then decided he'd forgo his senior season and sign with the Rangers.
April 10: Kreider signs an entry-level contract with the Rangers. What kind of an impact, if any, that he'd have is still unclear. Here's Rick Carpiniello on the LoHud Rangers blog, writing about Kreider's signing: "He is not expected to be able to actually get into a playoff game straight out of college … though that could obviously change if the Rangers have injuries, or if Kreider blows away the coaches in practice (unlikely), or if something unforeseen happens."
April 11: Kreider practices with the Rangers for the first time. By this point, he'd already burned the first year of his contract regardless of whether he saw any game action, and Kreider said it was made clear that he'd have to prove he was ready to play with the team. Said the 20-year-old: "You're going to have to earn your ice time, which is the way it should be." John Tortorella, meanwhile, didn't say much about the team's plans for Kreider: "We are happy he's here, and he's a Ranger," Tortorella said. "From there, we go day-by-day."
April 12: The Rangers open the postseason with a 4-2 victory over Ottawa. Kreider is a healthy scratch.
April 14: Kreider is a healthy scratch in Game 2 as well, but during the Rangers' overtime loss to the Senators, Carl Hagelin is called for a five-minute major for elbowing Daniel Alfredsson. The Senators' captain would leave the game with a concussion.
April 15: Hagelin is suspended for three games, opening up a spot for a forward in the Rangers' lineup. Kreider is informed he'll make his NHL debut in Game 3, though neither he nor Tortorella reveal the Rangers' plans.
April 16: In a bit of gamesmanship, both Kreider and John Scott take part in pregame warm-ups. Scott's name would appear on the NHL's official lineup sheet for the game, but at the last minute, that changed, and Kreider was inserted into the lineup. Even the MSG broadcasters didn't learn that Kreider would be playing until they were signing off from the pregame show. Kreider saw 11:11 in ice time, all at even strength. (He began the game in Hagelin's spot, on the top line with Brad Richards and Marian Gaborik.) He'd register one shot on goal, and afterwards, Tortorella said he was pleased with Kreider's debut. Via the News: "That's a hell of a spot we're putting the kid in," said Tortorella. "He certainly shows he can skate in the league. We know that. There are things he needs to work on … But I'm really happy the way he played."
April 18: Kreider gets just six shifts (totaling 3:29 of ice time) in a 3-2 overtime loss in Game 4.
April 21: As Hagelin sits out the final game of his suspension, Brian Boyle leaves Game 5 with a concussion. Kreider gets 7:34 of ice time.
April 23: Hagelin returns for the do-or-die Game 6, but Boyle doesn't play. Kreider remains in the lineup, and with the Rangers up 2-1 in the second period, he takes a feed from Derek Stepan and scores his first NHL goal. It would turn out to be the game-winner. Kreider also earned minutes in crunch time in this game; he was on the ice for Chris Neil's controversial goal to cut the Rangers' lead to one.
April 26: Boyle is still injured, and Kreider plays outstandingly in Game 7. His efforts aren't reflected on the score sheet, but he forces a turnover in the second period that started the sequence that resulted in the Rangers' first goal of the game. (By now, there's even have a suggestion for the name of the line consisting of Americans Kreider, Derek Stepan, and Ryan Callahan: the Stars and Stripes line.) Kreider would play a career-high 18:21 (including 1:13 of power play time) and had gained Tortorella's trust to the point that he was on the ice during crunch time of a one-goal Game 7.
April 28: Kreider's speed is on full display during Game 1 of the conference semifinals against Washington. He scores a third-period goal to break a 1-1 tie, and 90 seconds later, he assists on a Brad Richards goal that gave the Rangers a two-goal cushion. (His goal would hold up as the game-winner in the 3-1 victory.) He gets a huge ovation from the Garden crowd as he's announced as the game's first star.
April 30: The Rangers face off against Washington in Game 2 at 7:30. Today is Kreider's 21st birthday.