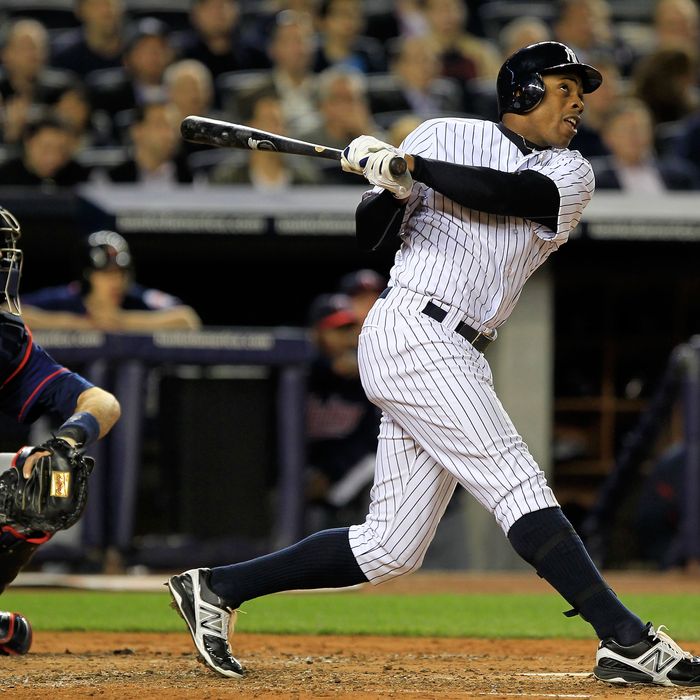 There's a Twitter phenomenon wherein a sports fan's timeline starts buzzing all at once merely because a baseball player is about to make a plate appearance. Twitter's always been good for directing the user to big moments as they happen, but baseball especially lends itself to the finite, individualized "X is on deck. Change the channel because whatever happens is going to be noteworthy" chatter. (The only thing I can think of that compares: Tebow with possession, down in the fourth quarter.) The reasons for that chatter vary — often it's an exciting prospect taking the plate or somebody on the verge of hitting a career milestone — but only rarely is the excitement over a single game's achievements. Last night was one of those rare moments.
Early in the evening, Curtis Granderson cracked a first-inning home run to right center field to begin the Yankees' comeback against Anthony Swarzak and the Twins. In the second, he drilled another one to right that scored Derek Jeter and gave the Yankees their first lead. Then in the fourth, he got Jeff Gray as well, sneaking yet another homer just over the right-field wall. So by the time Granderson took his fourth and fifth at-bats, folks were changing the channel to see what happened. Granderson stayed hot, too, though he fell short of matching Lou Gehrig's four-home-run outing back in 1932 (the only Yankee to ever do it). Those fourth and fifth at-bats ended in a line-drive single and a dribbling infield hit, so those tuning in were still witnessing history. No Yankee before Granderson had ever recorded five hits with three home runs in a game. Pretty cool.
Granderson's huge night drew attention away from a couple other items of note, one being the fact that New York needed every single one of those homers. Phil Hughes got clobbered pretty badly in his five and a third inning, though the bullpen snuffed the Twins from making a full comeback of their own. On the more encouraging side, Granderson's three blasts overshadowed Mark Teixeira's first home run of the year, a welcome awakening by a guy from whom New York would love to get some power. The way the starting pitching has worked out, the Yankees just need power from anyone who's offering. If Granderson wants to keep pumping out five-hit, three-homer games, that'd probably be cool with everyone.