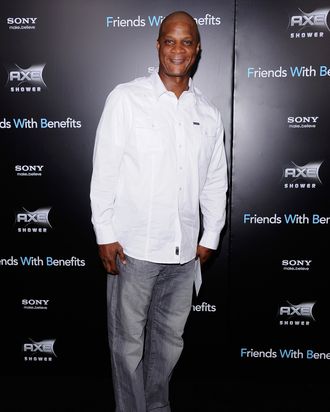 After being selected by the Mets with the first overall draft pick in 1980, Darryl Strawberry would return to his native South Central Los Angeles each year along with his best friend, Reds outfielder Eric Davis, to run the Program, an unofficial off-season daily workout at South Central's Harvard Park consisting of batting and fielding practice for prospects and minor leaguers. Created to encourage South Central's hotbed of talent, the Program ran from 1982 until 1994, and more than 50 participants would go on to play in the big leagues, including Frank Thomas, Barry Larkin, David Justice, and Chili Davis. This Sunday — Jackie Robinson Day around the major leagues — BET will air Harvard Park, a documentary that traces the careers of Strawberry and Davis and also takes a look at the friendships and struggles of the ballplayers who comprised the Program. Strawberry, an executive producer on the film, spoke with The Sports Section about growing up in South Central, his relationship with George Steinbrenner, and his life today.
As executive producers of Harvard Park, why did you and Eric Davis want to make this film?
The message was: It's not where you grew up, it's where you're going. You can grow up there and go to any level that you choose.
How accurate were the depictions of South Central and Compton in movies and music – Boyz n the Hood, N.W.A., Tupac, Snoop?
Very accurate about the lifestyle that was carried on [in the neighborhood] while we were at Harvard Park. The thing was, everybody knew us and respected us through the community of Southern California. We had stood for something great and gone back into the hood. We put our stamp on that park and everybody knew we were there, so there would be no problems. Gangs said, "If you have any problems, let us know and we'll protect you. We're proud you've chosen to stay part of the community." The stories created in those movies were true, but the stories Eric and I created in our lives were true, too. We became millionaires and went back to that park because we didn't fear for our lives; we loved these people and wanted to provide a positive inspiration.
Was it difficult to resist gang activity as a teenager, before you got into sports?
That was a choice.  I was around gangs a little bit in junior high, and then I got past that. I got into sports, which were a different outlet from hanging around on the streets, wanting to fight. I wanted to do something productive.
When I interviewed John Young in 2008, he said that he founded RBI, Reviving Baseball in Inner Cities, because as a scout from South Central, he was concerned that the percentage of major-league African-American players was falling from a high of 24 percent in the 1970s; it was just 8.2 percent in 2007. What do you think the reasons were?
Baseball has gone to Latin America and other countries and built academies, more than developing players here. There's nothing wrong with that, but American players used to dominate. Also, for the younger generation of African-American kids, my two sons, for example, grew up around baseball, but they played basketball. Basketball became more attractive. They don't see many players of their color playing baseball and recognized as stars. They look at Kobe Bryant, Carmelo Anthony, LeBron James; these guys have jerseys and shoes. It attracts attention. Baseball has never marketed their players that way; Derek Jeter, Prince Fielder could have been marketed. When something's not attractive, there's no reason for kids to run after it.
Most New Yorkers have a perception of George Steinbrenner as a tough, demanding boss, but you paint a very different portrait of him in Harvard Park.
He was a very caring, generous man to me. We didn't worry about what everybody else talked about, so I was able to have a relationship with him beyond baseball. That was more important. When you can establish that people like you for more than what you can do, you know you've done the right things.
The film doesn't shy away from discussing your battle with cocaine. Is battling your personal demons with drugs still an everyday struggle? Or is it something you feel is behind you?
No, it's not an everyday struggle for me. It was part of a lifestyle and what I was going through at that time, but my life has been revived. I'm born again; I'm an ordained minister now. I'm doing what I'm called to do now. My story has been transformed into helping others. I'm never ashamed to talk about it because we all have a past, and people can be inspired to move forward into the next phase of their lives.