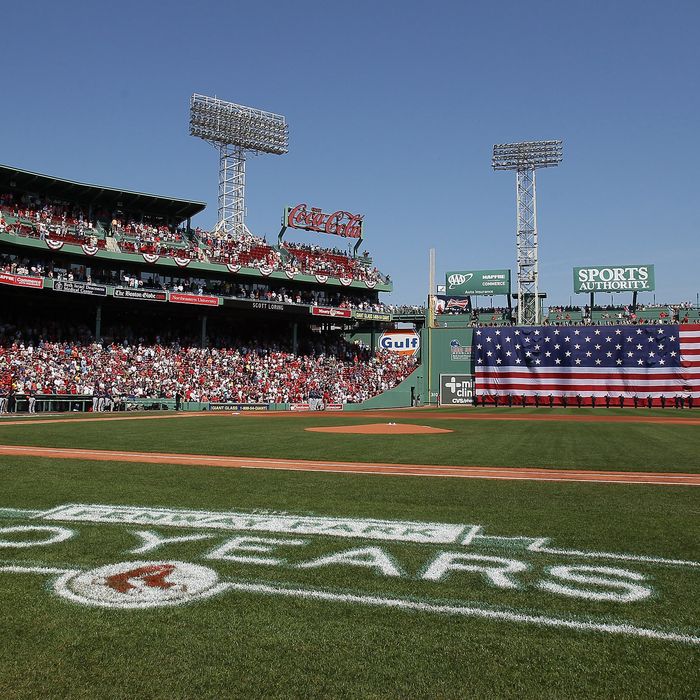 The Yankees are in Boston this afternoon to play their first of eighteen games against the Red Sox, and it's kind of a big day for Fenway Park: Today is the 100th anniversary of the stadium's first game, in which the Red Sox beat the then–New York Highlanders, 7-6. In honor of the occasion, both teams will wear throwback uniforms, and there's a big ceremony planned before the first pitch. 
Of course, this being the 2012 Red Sox, even a happy occasion like this one offered an opportunity for some mild controversy. You'll recall the "Terry Francona won't attend" stories from last week (money quote: "Until I'm more comfortable with some answers on what happened at the end of the year, I don't want to have much to do with the organization and that's a shame."), which were soon followed by the "Terry Francona will attend" stories. Then there was the question of whether Theo Epstein was invited (he was, at the last minute, but declined). And while all this was happening, in non–Fenway anniversary news, Bobby Valentine had to apologize to Kevin Youkilis for comments he made to a local TV station in which he questioned Youk's physical and emotional commitment. So, yeah, there's been some drama already in Boston, and it's only April 20. Oh, and the Red Sox aren't off to an especially good start: They're just 4-8 through twelve games.
Not that the Yankees have looked all that impressive themselves — last night's win improved their record to 7-6, and the rotation has disappointed so far — but things are a little less chaotic in the Bronx than in Boston these days. (Valentine is already hearing boos from Boston fans, while ESPN is already having its writers weigh in on whether Bobby V. will make it through the year.) This series marks the beginning of a tough stretch for the Yankees: After their three-game set at Fenway, they'll travel to Texas to play the Rangers, then return home for a series with Detroit. That's nine-straight games against teams that, coming into this season, were expected to compete for a playoff spot. (And actually, when that nine-game stretch is over, they'll play the Orioles, who currently sit atop the American League East.) Ivan Nova gets the ball today, against Clay Buchholz.