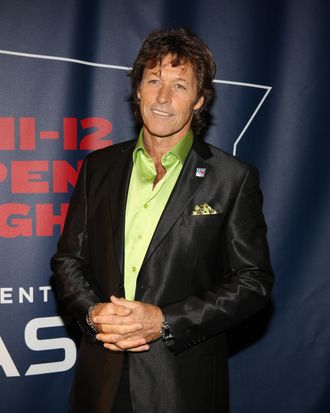 Former Ranger Ron Duguay will be appearing on MSG's pregame and postgame coverage of the Rangers–Senators first round series, beginning tomorrow night when the teams play Game 1 at the Garden. (MSG will broadcast every game of the series in the New York area.) And so as the Stanley Cup playoffs get underway, Duguay — who says he's picking the Rangers over the Senators in six — spoke with The Sports Section about Henrik Lundqvist, Chris Kreider, and why the Rangers struggled against Ottawa during the regular season.
Should there be any concern about Henrik Lundqvist? His numbers dipped in March, and then he took that shot off his arm in Philadelphia.
I haven't seen anything in his game that popped out at me as far as being different. Goaltending and playing any position, you'll go through a season or a time when you may be mentally focused, hardworking, and sometimes you just don't get some good bounces versus bad bounces, and that sort of thing. It's just part of being a hockey player. Things don't go great all the time. You look at last game [against Washington], there were three goals that went in, and they were three goals where the goaltender couldn't see a thing. So you can look at that and say, "Well, that's bad goaltending," or that it was just screened goals that happen in a game. It's just part of the game — good bounces and bad bounces. And I think the one thing that the team has to be concerned with, going into the playoffs, is that that's what teams are going to be doing to Lundqvist to make him less effective. If you can't see the puck, it's hard to stop. And so teams are going to want to screen him as much as possible to throw him off his game. They're going to want to be in his crease as much as possible. So I think what he was seeing in the last month wasn't him not being as effective. It was, teams are trying to find a way to beat a good goaltender, and that's: Shoot from anywhere with a screened goaltender.
The Rangers went 1-2-1 against Ottawa this season. What was it about the Senators that gave the Rangers trouble?
You look at any team that plays with a lot of speed, that controls the puck, that's good at moving the puck with their foot speed — that's where the Rangers struggle, because it kind of took them out of their game. Because they'd be late on finishing their check because they'd already moved the puck and they're already gone. And so it kind of takes a little of the Rangers' strength away. A good puck-moving team that has good foot speed, the Rangers struggle against, because the Rangers' success is on pinning them down, getting a good forecheck. But if they've got guys like the young defenseman Karlsson, who gets on the puck quick — he moves his feet, he moves the puck up the ice — well, that takes away from the forecheck that the Rangers like to have. And that's an advantage for them. And so they've got to find a way to keep doing what they're doing and just don't give them time and space, because that's what they want. You got guys like Spezza who just come flying up the ice.
What do you think of where the power play is going into the playoffs? Could that be a concern, or is it starting to come around?
It was coming around. Except for the last two games — and even the last game, they were moving the puck around and getting opportunities. The thing is, being able to control the puck, and getting as many opportunities on a goaltender as possible, with a screened goaltender. So they were doing that. They were starting to score some goals. I think they're better than what they were going into the playoffs. Now you gotta remember, the Bruins last year won the Stanley Cup with a very average power play, so it doesn't necessarily define you. It's just that you're gonna have only so many opportunities, especially if you're a low-scoring team. That's a good opportunity to score a goal for a low-scoring team. You want to be able to make the best of it.
Do you think we'll see Chris Kreider playing during the postseason? [Editor's note: This interview was conducted before Kreider officially signed.]
You know, where does he fit in now? I mean, who's he going to replace? The only way I think he fits in is if there are injuries. Because he's not going to replace anyone now. He's a big strong kid with some speed — do you potentially use him on the fourth line because of that? Maybe. Otherwise, I think he just has to sit around and get into some practices. If they go two and three rounds, then potentially after he's skated with the team, and they see something really special in practices, after a couple rounds, and after being with the team, and after seeing and knowing how to play the system — yeah, potentially down the road. I can't imagine him playing in the first round.
Who are your picks to go to the Finals?
If things stay the way they are with the Pittsburgh Penguins — if they're healthy — I think they're the favorites. I think Crosby's gonna take his game to another level, and he's gonna lead that team. I think they beat Philadelphia, and to see them and the Rangers in the conference final would be nice. I think Pittsburgh has a slight edge over the Rangers, but it's not a series I would bet on. It's just my gut feeling on Crosby, Malkin, Fleury — they're solid all the way around, that team. And the thing is, they can score goals. They can shut you down, and they can score goals. I think we're gonna see another level out of the Pittsburgh Penguins come playoff time, and I think they're the favorite to the win the Stanley Cup. In the West, if Chicago gets Toews back, I like that team. They're a couple years from having won the Stanley Cup, and with some good, young, skilled players that want to win it again. If they get some goaltending and Toews comes back, that's the team I think comes out of there. St. Louis, under Hitchcock, they've been really good and really consistent. I'm not sure how that young team is gonna play under playoff hockey. So St. Louis and Chicago are the teams I look at. They've got speed, they've got strength, they've got good coaching.