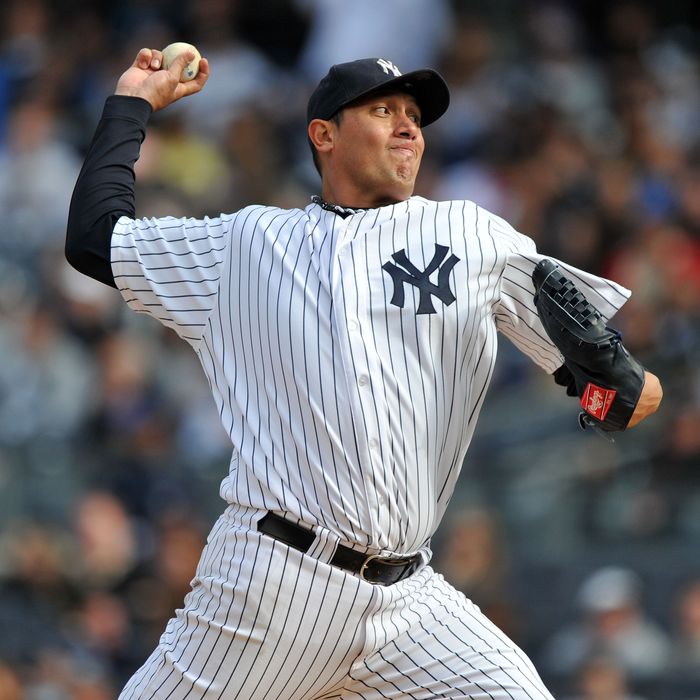 Freddy Garcia was one of the pleasant surprises of the Yankees' 2011 season, starting 25 games and posting his lowest ERA since 2001 after signing a low-risk minor-league deal prior to spring training. He got off to an especially strong start last year, posting a 2.00 ERA in April over three starts and one relief appearance, and he would pitch well enough over the course of the year that he earned a new one-year contract from the team during the off-season.
His April this year, however, has been troubling: He didn't make it out of the second inning in either of his last two starts and allowed fewer than five runs in just one of his four starts. (His ERA so far? An ugly 12.51.) The Yankees were going to need to drop someone from their rotation once Andy Pettitte was ready for big-league action, but it appears they're not willing to wait that long to do something with Garcia: Following an ineffective outing on Saturday (six earned runs in one and two-thirds innings), Garcia's been demoted to the bull pen.
David Phelps — who piqued our interest with a few impressive outings early in the season before cooling off a bit — will take Garcia's spot in the rotation and will make his first big-league start on Thursday. Phelps's most recent appearance was a good one: He tossed three innings without allowing a hit on Saturday afternoon after Garcia had already dug the Yankees a huge hole. It's possible he won't remain in the rotation for long: Via ESPN, the Yankees' upcoming schedule allows them to skip their fifth start in upcoming weeks, and by the time they need a fifth starter again, Pettitte could be ready to take the spot. Then again, like Garcia, Phil Hughes has been doing his best to pitch himself out of a rotation spot, so it's still too early to say what exactly Joe Girardi will do once Pettitte is ready to join the team.
Luckily for the Yankees, who've had all sorts of rotation issues so far this year, CC Sabathia seems to be finding his groove: He struck out eight over eight innings of two-run ball yesterday as the Yankees took the rubber game of their series with Detroit. The Yanks start a three-game set with the Orioles — who are currently tied with the Rays for first place in the American League East — tonight.