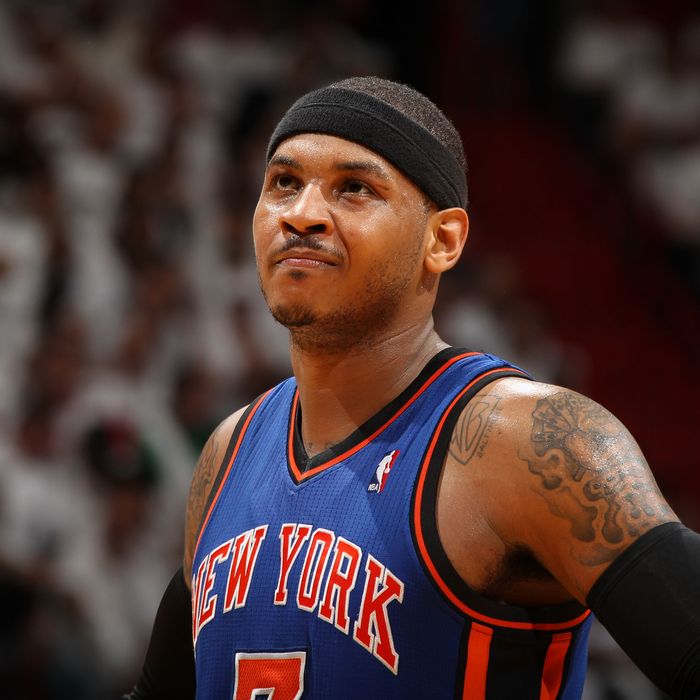 Only so much this guy can do.
If you are looking for positives following the Knicks'$2 104-94 Game 2 loss to the Miami Heat — and this is something we are constantly looking for — you can definitely take solace in the fact that the Knicks never, ever gave up. As opposed to the Game 1 implosion, the Knicks never looked overwhelmed or scared or eager for the clock to just run out already so everyone could go home. The Heat were the better team and kept threatening to run away with the game at several points, but the Knicks kept fighting back and battling and staying within striking distance. The problem was: The Heat were just the better team. By a lot. That the Knicks stayed as close as they did, and made the runs they were able to put together, almost feels like a victory. But let it be clear: It was not a victory.
Carmelo Anthony had a impressive statistical game, one supposes, scoring 26 points and grabbing 9 points on reasonable enough shooting, but that line ignores several major factors. First off, Carmelo was pretty much the only offensive option the Knicks had. The problem throughout, though, was the inability of any player other than Anthony to provide consistent scoring. It wasn't until there were four minutes left in the third quarter that a Knick besides Anthony reached double figures, and that was Amar'e Stoudemire, who, needless to say, was not exactly a bastion of dominance and efficiency. We admire Stoudemire and respect what he brought to the Knicks with his arrival as much as anyone … but you can make a legitimate argument that Josh Harrellson would be more useful than Amar'e right now. (The sad thing is that Amar'e is playing hard. It's just not there.) (UPDATE: And now it appears that, postgame, Amar'e was so angry he punched a fire extinguisher and cut his hand. So, that's great.)
But know that it's not that the Knicks don't have any other options: After all, Carmelo missed some games this year, and the Knicks were not shut out. The problem is that this Knicks team, the one that exists in the post–Mike D'Antoni era, is actually constructed this way. It sure feels exciting and right when Carmelo is a one-man team like he was in the win over the Bulls, but the only way you're going to beat a team like the Heat — with its otherwordly defensive talent and athleticism — is through ball movement. But the Knicks aren't set up to have ball movement now: They're set up to play great defense and hope Carmelo is hot. This is not a sustainable long-term strategy, and it sure as heck isn't going to work against a team as stacked as the Heat. Midway through the fourth quarter, with the Knicks within ten and desperately needing a bucket, the Knicks just once again tossed it into Anthony and let him run it in isolation. (Every Knicks possession is starting to look exactly the same these days.) They did this, consistently, against LeBron James. Think about this: The Knicks' one play, with their season on the line, is simply to ask Carmelo to create against one of the best on-ball defenders in NBA history. Carmelo kept getting stuffed, and jeez, how couldn't he? The Heat knew what was coming. The Knicks had no other play. This is what Carmelo and the Knicks wanted. It's what they got. You can't blame Carmelo as a player; without him, they would be doomed. But even the Heat, with their trio of superstars, find Shane Battier and Mario Chalmers open when the stars are draped. The Knicks aren't doing that. By design.
Still, the Knicks hung in the game in a strange way: offensive rebounding. They held a decisive rebounding edge the whole game, the only way they were able to keep the Heat within sight, considering they shot worse and turned the ball over more. Needless to say, offensive rebounding hasn't been the Knicks' forte this year, but it came in handy at the right time, thanks largely to Anthony and Tyson Chandler, who looked a little green but, mercifully, looked like Tyson Chandler, or at least a reasonable facsimile. But eventually, the Heat turned it on, for the final time in a night of runs. There are times in which it looks like no team on earth could beat the Heat, let alone the Knicks. And then there are times when they looked rattled, and vulnerable, to a team that is smart and calculating and resourceful and spirited. Right now the Knicks are only spirited. Spirited is great: Spirited is enjoyable to watch and cheer for, and it will be well-rewarded at the Garden on Thursday night. But spirited is not enough, not against this team.
This was not a disaster. The Knicks proved they belong in the same gym as the Heat, and it didn't look like that Sunday, to say the least. It is not hopeless. There were even some pleasant signs from Baron Davis and J.R. Smith. But the Knicks need to play differently on offense than they are right now to have a chance. They need to become a different team. (Again.) Think they can figure it out in three days? Think they even want to?