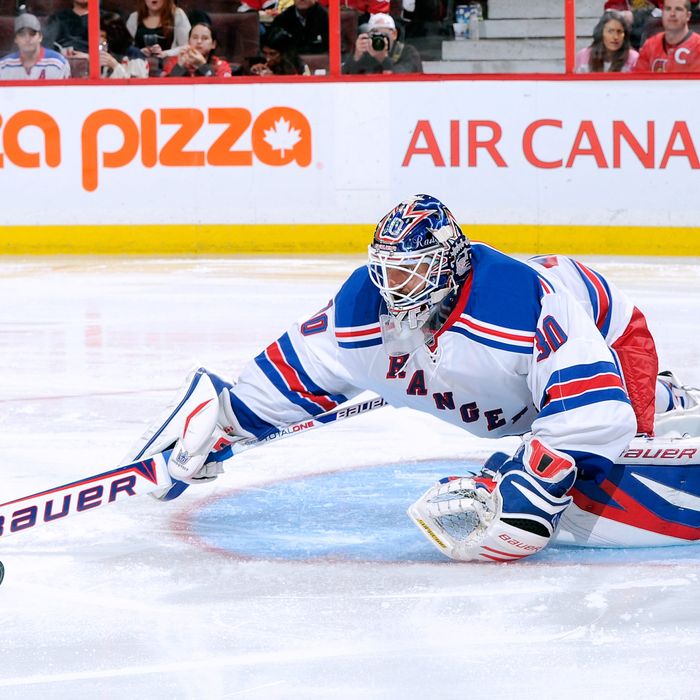 This should come as no great shock, but Henrik Lundqvist has been named a finalist for the Vezina Trophy for the fourth time. His competition this year: Jonathan Quick of Los Angeles and Pekka Rinne of Nashville. This could finally be Lundqvist's year: His numbers dipped toward the end of the season, but of the nominated goalies, he finished just a tick behind the Kings' net-minder in goals against average (1.97 versus 1.95) and just a tick ahead in save percentage (.930 versus .929). Quick had more shutouts, but — for what it's worth — Lundqvist had more wins. (And while win totals are a function of the team as a whole, it's quite possible the general managers — who vote for the award — took victories into heavy consideration. Rinne, the third nominee in what's probably a two-horse race, finished fourteenth in goals-against and seventh in save percentage, but led the league with 43 wins.)
Quick didn't have as strong a team in front of him as Lundqvist did during the regular season — Henrik's team blocked a whole lot of shots before they could get to him — but Lundqvist will be given plenty of credit for being the backbone of a team that finished with the top seed in the East. We're also in the camp — one that's been mentioned over at Puck Daddy recently — that believes Lundqvist is considered "due" to win the award. It might not be the best reason to give him the trophy, but in a close race — combined with all the exposure Lundqvist has gotten this year as a result of playing for a first-place team for much of the season — we think it'll put him over the top.
Meanwhile, in day-before–Game 7 news:
• Milan Michalek wasn't disciplined for kicking Dan Girardi with his skate during the scrum that resulted in Ottawa's controversial second goal on Monday night. He received a warning from the NHL, so if you're still trying to figure out how exactly Brendan Shanahan is arriving at his supplemental discipline decisions this spring, know that the bar for discipline seems to be set higher when it would affect a Game 7.
• Ryan Callahan hurt his finger blocking a shot on Monday night and didn't practice today, but John Tortorella said he had the day off for maintenance and would take part in tomorrow's morning skate.
• Tomorrow's Rangers-Senators Game 7 has been given a pretty standard 7 p.m. start time — as opposed to tomorrow night's Devils-Panthers Game 7, which will start at 8:30 p.m. in Florida.
• With Game 7s on both MSG and MSG Plus, the Knicks will be bumped to WWOR/Channel 9 tomorrow night. Speaking of MSG, they've gotten big ratings for the Rangers-Senators series: Game 6 gave the network its highest-rated hockey game since Game 3 of the Eastern Conference semis in 1997. The six-game average rating is up 52 percent over the 2009 playoffs, which is the last time a Rangers series went to at least six games.