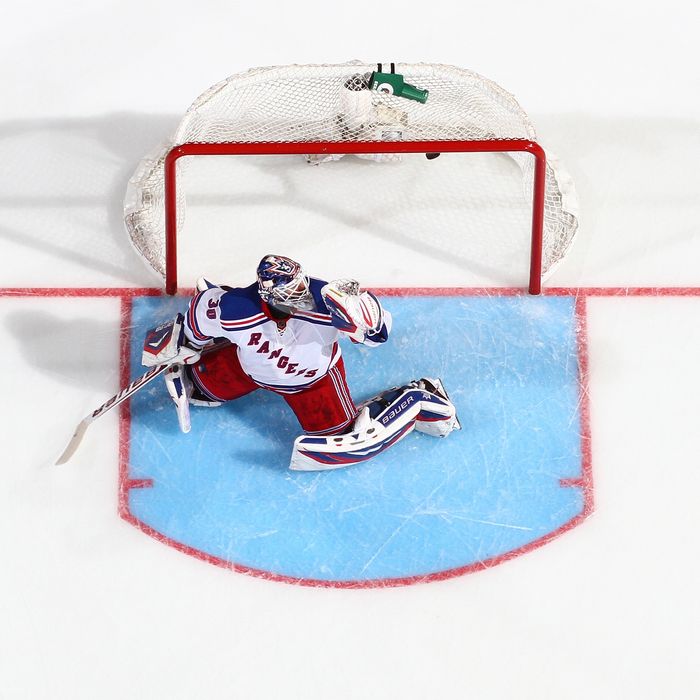 Last night's game-winning goal.
Last night, for the second time in their Eastern Conference Quarterfinal series against Ottawa, the Rangers lost in overtime. And as has been mentioned plenty since Kyle Turris's goal found the back of the net 2:42 into overtime, Henrik Lundqvist's career record in playoff games that go to overtime is now just 1-7. Here now, a look at the eight post-lockout Rangers playoff games that have gone to overtime — games that have ended on everything from a fluky moment of miscommunication to a perfectly placed onetime blast. Fair warning: Some of the videos linked below might be painful for Rangers fans to watch.
April 29, 2007: Rangers 2, Sabres 1 (Second round, Game 3)
Game-winning goal: Michal Rozsival, at 16:43 of the second overtime
Lundqvist's lone overtime playoff win came in his first overtime playoff game. With the Rangers down two-games-to-none in their second-round series to Buffalo, Lundqvist stopped all eleven overtime shots he faced before Rozsival won the game with a one-timer from the point.
May 4, 2007: Sabres 2, Rangers 1 (Second round, Game 5)
Game-winning goal: Maxim Afinogenov, at 4:39 of the first overtime
One of the more devastating Rangers losses in recent memory. This is the game in which Chris Drury, then with Buffalo, tied the game with 7.7 seconds remaining, before Afinogenov would win it on a power play goal in overtime, to give the Sabres a 3-2 series lead. It was Buffalo's third shot of the overtime period.
April 13, 2008: Devils 4, Rangers 3 (First round, Game 3)
Game-winning goal: John Madden, at 6:01 over the first overtime
This is the only game the Rangers would lose in this series, though this game is mostly remembered not for Madden's game-winner (which caromed into the net off Marc Staal's skate), but for Sean Avery's power play goal on Martin Brodeur earlier in the game — the one that led to the creation of the so-called "Sean Avery Rule."
May 4, 2008: Penguins 3, Rangers 2 (Second round, Game 5)
Game-winning goal: Marian Hossa, at 7:10 of the first overtime
Hossa's goal in this one would end the Rangers' season, once again in the second round of the playoffs. The Rangers, by the way, didn't register a shot on goal during this overtime; Pittsburgh registered six.
April 13, 2011: Capitals 2, Rangers 1 (First round, Game 1)
Game-winning goal: Alexander Semin, at 18:24 of the first overtime
After Drury (now with the Rangers) failed to clear the puck out of the New York zone, Marc Staal's turnover led to Semin's goal on a rocket of a one-timer off a feed from Jason Arnott.
April 20, 2011: Capitals 4, Rangers 3 (First round, Game 4)
Game-winning goal: Jason Chimera, at 12:36 of the first overtime
This is the game of the "Can you hear us?" chants directed at then–Caps coach Bruce Boudreau, as well as the game the Rangers squandered a 3-0 third-period lead. The game-winning goal was a fluky one: Marian Gaborik tried to play the puck just as Lundqvist tried to dive on top of it, and the puck squirted behind Lundqvist where Chimera was able to dunk it into the open net. Chimera was in the right place at the right time, but as we wrote almost exactly one year ago: He'll never score an easier goal in his life.
April 14, 2012: Senators 3, Rangers 2 (First round, Game 2)
Game-winning goal: Chris Neil, 1:17 into the first overtime
Neil — who'd dropped the gloves with Brian Boyle earlier in the game — ends a nasty game on Ottawa's second shot of overtime. Just as they had late in the third period, the Senators got traffic in front of the goal crease, and the game-winner came after Ryan McDonagh blocked a point shot and the puck deflected to Neil, who buried it past a stickless Lundqvist.
April 18, 2012: Senators 3, Rangers 2 (First round, Game 4)
Game-winning goal: Kyle Turris, 2:42 into the first overtime
Turris used defenseman Anton Stralman as a screen and fired a perfect shot to beat Lundqvist, glove-side. It was Ottawa's first shot over overtime; Lundqvist didn't see it until it was too late.