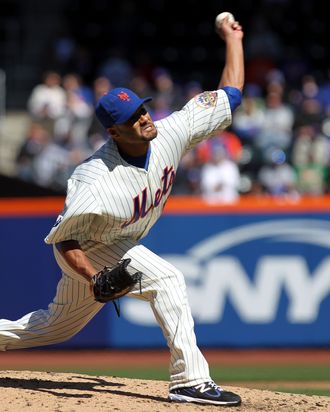 There was something strange, almost alternate universe-esque, about seeing Johan Santana on the mound for the Mets yesterday. He hadn't pitched at Citi Field since August 2010, but it somehow felt farther away than that. In August 2010, Omar Minaya was still the general manager. Jerry Manuel was still the manager. Fred Wilpon hadn't been named in the Wilpon suit yet. He'd been gone so long it was easy to forget about him, that he could still pitch, that he'd been rehabbing that whole time. It was easy to forget he'd eventually return.
Santana was far from perfect yesterday, and he clearly seemed fatigued by the fifth inning, when he walked two guys (including the pitcher) and needed a perfect pitch to get Michael Bourn with the bases loaded. (And he still almost threw the ball away after it was hit back to him.) His fastball averaged about 87 miles per hour, which is awfully slow, even though Santana was never much of a flamethrower anyway. But Santana was crafty and smart and figured out a way to shut down the Braves for five innings. It's not worth $24 million this year and $25.5 million next year (!!!), but it is something.
The key to Santana's success yesterday was the same as it has been his whole career: his ability to change speeds. His changeup averaged 77 miles per hour, which is enough of a difference from his fastball that he can keep batters off balance. Then Santana can use his natural pitching intelligence to pick the right pitch at the right time. It wouldn't seem sustainable in the long term — you usually need to throw faster than 87 mph to survive in the majors — but the Mets don't have Santana for the long term. (Though it's worth noting that Santana is the type of pitcher who can get by without his best stuff because he wasn't a Roger Clemens-esque 95-mph thrower in the first place. He was already prepared for life without his stuff. He's similar to Pedro Martinez in that way.) They have him for two years. And yesterday, at last, it looked like they might get something for their money. They won't get enough for their money, but it's too late for that now. Mets fans might not groan when they hear Johan Santana's name this year. That is progress.