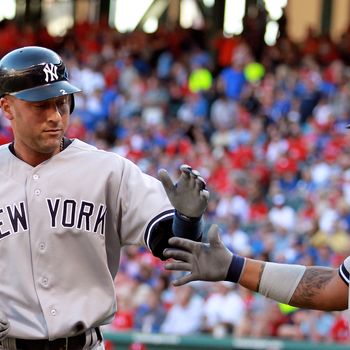 The Texas Rangers — currently a distant second on a list of teams called the Rangers that we're paying attention to these days — have gotten off to a pretty impressive start this season: They won thirteen of their first sixteen games, and all three of those losses were one-run defeats. Only once in those first sixteen games was a team allowed to score five runs against Texas (and they won that game anyway, 11-5). But last night, in the opening game of a three-game set in Arlington, the Yankees jumped out to a 7-1 lead through six innings and eventually came away with a 7-4 victory.
The biggest blow came on Alex Rodriguez's three-run  homer in the fifth — it was A-Rod's first hit against a left-handed pitcher this year — but Derek Jeter had himself quite a night, as well: He went 4-5 with a double and raised his average to .411. (He's currently second in the American League in batting, behind only David Ortiz.) Jeter is riding a thirteen-game hit streak, and last night was his ninth multi-hit game in sixteen games this season. (Compare this start to last season, when he was hitting just .219 — with an OPS of just .516 — through sixteen games.) Yes, sixteen games is a small sample size, but if last year Jeter got off to the terrible start we feared, this year he's gotten off to the terrific start we hoped he still had in him.
Hiroki Kuroda looks to bounce back from a rough outing against the Twins last week in the second of the series tonight. Yu Darvish — Texas's big off-season acquisition — gets the start for the Rangers. Via the Daily News, it's the seventh time in big-league history that two Japanese starting pitchers will oppose each other, and the first time since Kuroda faced Hisanori Takahashi of the Mets in 2010.