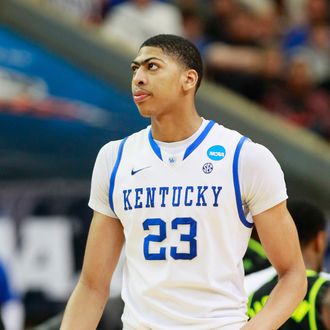 ATLANTA, GA - MARCH 25: Anthony Davis #23 of the Kentucky Wildcats reacts against the Baylor Bears during the 2012 NCAA Men's Basketball South Regional Final at the Georgia Dome on March 25, 2012 in Atlanta, Georgia. (Photo by Kevin C. Cox/Getty Images)
If you're like us, the NCAA Championship Game was mostly spent glancing away from the television, eyes pained by watching Kentucky ruin all that is (probably wrongly, but still) sentimental about college basketball in their easy win over Kansas for the national title. It might not have made you happy, it might not have been good for the city of Lexington (which is still on fire, we think), but it was good for "dukakis1988," who won our tournament pool. We'll wait to hear from the former Massachusetts governor for his free post.
And now we head back to the only thing in college basketball that matters in our universe: waiting to see if Fordham will qualify for the Atlantic 10 Tournament next year. It'll be held in Brooklyn, by the way.