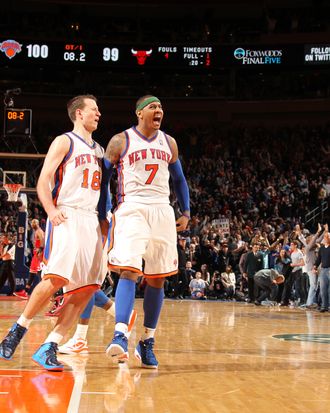 This was a lovely finish to the week's action.
Coach Mike D'Antoni's Woodson's rotation is an ever-evolving machine with parts that grow, shrink, disappear, and switch roles constantly. As part of our Knicks coverage all season, we'll be tracking each player every Tuesday. Come join us for the Knicks Power Rankings!
1. Carmelo Anthony. (Last week: 1) It was an exciting week for the Knicks, and one that — even with Amar'e Stoudemire and Jeremy Lin still out — went pretty splendidly, save for a fourth quarter in Indiana so rotten that it turned an otherwise solid outing into a loss. Following that massive letdown, New York went out and thrashed the crumbling Magic and then wrested a thrilling overtime win from the first-place Bulls. They now sit proudly in seventh place because of a head-to-head tiebreaker with the sinking 76ers.
That 2-1 record against pretty solid competition can be attributed largely to Carmelo Anthony making the week his own. After facing slighter, more mobile "power forwards" last week, the out-of-position Anthony got a lot of looks against more natural fours like David West, Glen Davis, and Carlos Boozer this past week. While 'Melo was able to hold his own on defense, those bigger, slower guys didn't have a shot of staying in front of him on the other end. Finally looking close to being fully healthy, Anthony was able to shake folks off the dribble or step back and — at long last — drill the signature elbow jumpers that he'd been shanking all season long. The loss in Indiana wasted a 39-point outing from Anthony that probably would've been greater if West hadn't gone down with an injury and forced the Pacers into a small lineup that ended up working pretty nicely for their defense.  Anthony was relatively quiet in a Magic game that didn't really require his services, then exploded on Sunday afternoon against the Bulls. Seriously, that performance was unlike anything we've seen since Game 2 of the Celtics series last year. After utterly dismantling Boozer, 'Melo was hit-or-miss against the more qualified Luol Deng, but he kept plugging away, and when the game was on the line and New York's primary options had failed, 'Melo didn't miss. 'Twas a virtuoso performance on a day when the Knicks desperately needed one. With some more tough games ahead on the schedule, one hopes that 'Melo has a few more of those in him.
2. Tyson Chandler. (Last week: 2) Chandler's offensive rebounds kept the Knicks somewhat alive in Indiana and played a crucial role in the Chicago win, but his night in Orlando had to be the highlight of his week. Dwight Howard had been experiencing a pretty weird, uncomfortable day with the Magic organization, and Chandler made damn sure he couldn't take solace on the court. Chandler, with some help from his teammates, forced Howard into uncomfortable shots and frustrating fouls, outplaying him in pretty much every respect for the second time in as many weeks. It was another workmanlike, quietly authoritative week for Chandler. Pretty much all his weeks are like that.
3. Iman Shumpert. (Last week: 3) Save for a hot first quarter in Orlando, Shumpert was having a pretty quiet week before Sunday came along. He played about a week's worth of basketball in that Bulls game, though. Performing in front of a national audience — the same nation that watched his bizarre 5-for-20 outing in Memphis a few months ago — Shumpert made Derrick Rose's return from injury hell. Rose hit some difficult shots in the second half but went 8-for-26 for the game, and that's when he even got the chance to shoot. On a remarkable number of possessions, Shumpert's nimble feet and frighteningly long arms separated Rose from the ball before he could do anything with it. Rose could hardly face the basket without falling victim to grand theft basketball, as Shumpert snagged four steals and a ton more uncounted strips and deflections. When Rose got home and ate his evening clementine (he doesn't do apples anymore), he probably protected the food with his off-hand out of conditioned fear of being robbed. It was funny, because Jeff Van Gundy spent much of the early part of the ABC broadcast lauding Shumpert's skills and labeling him one of the top wing defenders in the game, which left Knicks fans at home and on the internet to be like "Settle down, Jeff. The kid is awesome, but he's a rookie and he's about to face Derrick Rose, so maybe slow your roll." No need. Shump more than lived up to his billing on Sunday. Accelerate your roll, Jeff.
4. J.R. Smith. (Last week: 4) Folks were prettttty upset to see Smith firing up misses at a semiautomatic rate while the Knicks appeared to be collapsing during the second half versus Chicago. He'd go on to drill consecutive jumpers in overtime, though, which set the table for 'Melo's heroics at the end. For the week, Smith's defense was typically disruptive, and sandwiched between a poor offensive outing in Indiana and that awful shooting against the Bulls, he had an excellent 6-for-12 performance (plus nine assists!) in Orlando that included a truly absurd (in a good way) second quarter.
5. Landry Fields. (Last week: 7) Fields finally had an efficient, modestly productive week on offense, which was nice. He just can't convince Coach Woodson to keep him on the floor in fourth quarters, though. That can get pretty frustrating when Smith's out there chucking fade-away jumpers off the back rim, but one can sort of see Woodson's logic sometimes. When the Knicks are racing up and down and moving the ball freely, Fields finishes a lot of plays. He doesn't create much, though, so in the slowed-down, defense-heavy basketball that tends to fill fourth quarters, perhaps it makes more sense to have a guy like Smith, who can (for better or worse) create his own shot off the dribble, out there to close. Still, particularly in that Indiana game, it seemed a little unreasonable to shelve Fields after he'd been so solid earlier, and Woodson admitted as much afterward.
6. Steve Novak. (Last week: 8) Novak hit his threes in the first two games but went 0-for-4 against Chicago. Then again, it should be more like 0.96-for-4, because this shot — a wide-open three off a set play that would have tied the game before Anthony's three did that deed — was as much of a make as any miss has ever been. I've watched it dozens of times and am still convinced that there was sorcery or seismic activity or black magnetism (which is like magnetism, but more sinister) involved in that roll.
7. Baron Davis. (Last week: 5) Davis, who remains the starter, contributed very little throughout the week but did have one wonderful third quarter in Orlando. Exhibiting a sudden burst of quadricipital fortitude, Davis found his way into the paint and tossed five assists in that period, assuring that the Knicks wouldn't have their notorious post-halftime swoon against the Magic. His game wavered from neutral to outright shitty for the rest of the week, though.
8. Josh Harrellson. (Last week: 6) Jorts may be on his way out of the rotation now that Jared Jeffries is healthy, so this relatively high ranking is perhaps out of sentimentality, both for Josh's hard work and for his handlebar mustache of ever-expanding creepiness.
9. Toney Douglas. (Last week: 9) Douglas, now back in the rotation, didn't really make the most of the minutes he remained. He played spots of effective defense but couldn't contribute much with the ball in his hands, save for a momentarily encouraging fifteen-point outing garnered mostly in the fourth quarter against the Magic. This week's Toneygram: "Go unto delays."
10. Jared Jeffries. (Last week: Injured) Jeffries is a bottom-dweller because he missed the first two games of the week, but he played eleven solid minutes against the Bulls and should be climbing back up these rankings in no time.
11. Bill Walker. (Last week: Injured) Walker didn't play, but he was technically available for Sunday's game. It seems unlikely that he'll find his way back into the rotation, though I suppose it's not out of the question. In the meantime, Walker still makes a mean Chappelle's Show reference.
12. Mike Bibby. (Last week: 10) Bibby remains benched, and we've pretty much exhausted the excitement his personal website has to offer. I've been checking every day to see if those autographed items have arrived yet. Still no luck.
Injured: Amar'e Stoudemire, Jeremy Lin
Reassigned to Erie just in time for the D-League playoffs (go BayHawks!): Jerome Jordan