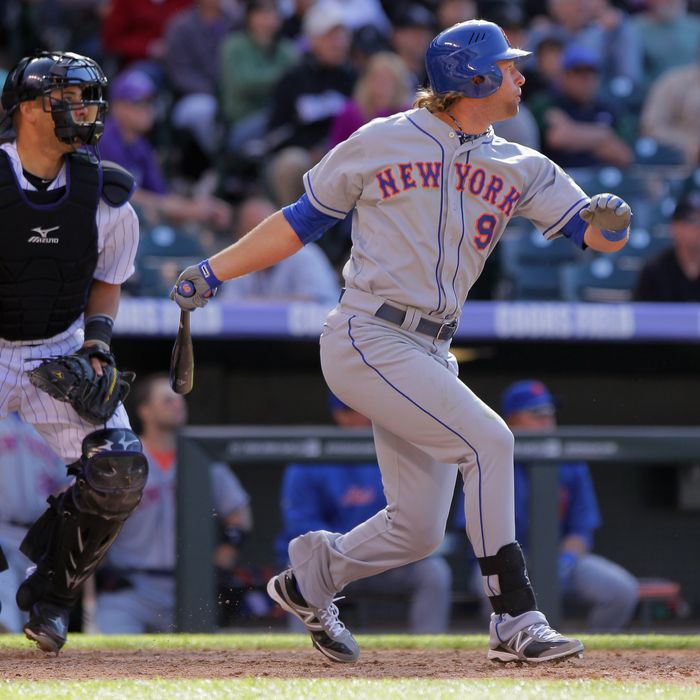 We have vowed, every Monday in which such a post would be applicable, to devote a Monday post to the Mets as long as they're still in the If the Season Ended Today Playoffs. And look, for the third straight week, they still are!
The Mets beat the Rockies 6–5 in eleven innings yesterday, giving the Mets the series win after an opening game that featured a Scott Hairston cycle and an 18–9 loss. (That's Coors Field for you.) That capped off a wild 5-3 week that featured a doubleheader loss to the Giants, a sweep of the Marlins, and then the series win over the Rockies. It was also a week in which the Mets lost Mike Pelfrey for the season and Jason Bay for a while, and may have found themselves a fan favorite outfielder.
Kirk Nieuwenhuis has been a joy during his short time in Queens, batting .316 and playing a (mostly) mean center field, a position he'll cede when Andres Torres returns from his own injury this week. There are reasons to be skeptical about Nieuwenhuis, at least in the short term; he doesn't walk enough, he strikes out way too much (he leads the team by a large margin), and he still hasn't played 100 games above Triple A. But he's one of the guys, along with Josh Thole, Ruben Tejada, and Lucas Duda, who are helping provide the Mets' happy surprise of a start.
Speaking of that start, here's how those playoffs would look, were there a national tragedy and the season ended today:
American League
New York Yankees/Baltimore Orioles (wild card coin-flip winner) versus Texas Rangers
Tampa Bay Rays versus Cleveland Indians
National League
New York Mets/Atlanta Braves (wild card coin-flip winner) versus Los Angeles Dodgers
St. Louis Cardinals versus Washington Nationals
This week, the Mets travel to Houston for three against the Astros and then host the Arizona Diamondbacks for a three-game set. Let's see if we're doing this post again next week!