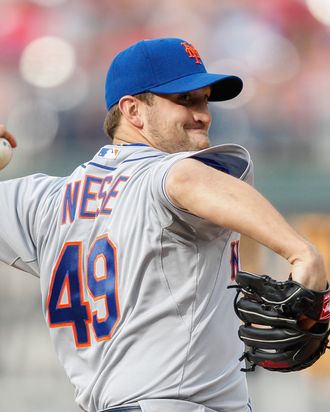 If the season ended today, man, there must have been some sort of national tragedy. This is a sad, historic day for our nation. Let us hope this can lead us into a new era of national unity. Once we overcame such a horrific disaster to befall our country that it necessitated such a dramatically early end to the baseball season — essentially one-sixteenth of the way through — we could take a step back and realize, "Hey … the Mets are in the playoffs!" And then we'd probably all cry some more. Not for the Mets; it really was quite the national calamity.
Anyway, the Mets lost to the Phillies 8-2 yesterday but won the series thanks to wins Friday and Saturday night. The key was the pitching: R.A. Dickey gave up just one run in eight innings on Friday, and Jon Niese combined with two other pitchers to shut out the Phils on Saturday. Now, the Phillies' offense is surprisingly bad early this season — and might not get better until Chase Utley and Ryan Howard are back, and maybe not even then — but that's still impressive.
More good news involved David Wright, who homered off his first pitch he saw after coming back from that pinkie injury. Now Jason Bay might be a little hurt, but you can forgive Mets fans for not being too worried about that mishap. And yes, with the wins over the weekend, the Mets would be the first Wild Card team — under the new system, they'd host a one-game playoff with the Arizona Diamondbacks. Get excited!
The Mets are in Atlanta tonight for a three-game series with those darned Braves before coming back home for seven games against the Giants and the Marlins. Right now, they have a better record than the Phillies and the Yankees. That's crazy; if that's the case in a month, it'll be the type of thing that makes you think the world is ending.