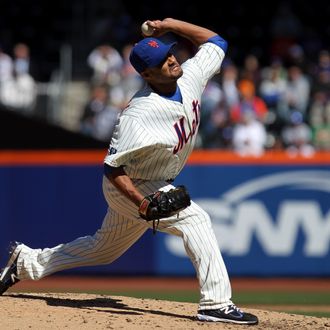 Hey, okay! The Mets have an uncanny knack for winning on Opening Day, and they kept the tradition alive against the Braves. After paying tribute to Gary Carter, the Mets took the field and got themselves a 1-0 win to kick off their campaign for an undefeated season. A year and a half after his last start, Johan Santana pitched five innings and, aside from dropping a few in the dirt and walking a couple batters in that fifth inning, looked great, tossing five strikeouts and giving up just two hits and two walks in the start.
While Citi Field's shrunken outfield didn't exactly yield explosive offense, the Mets got on the board (and were the first team in baseball to do so today) with David Wright's RBI single in the sixth inning. That's all it took. Santana was solid, the bullpen survived some men on base, and Frank Francisco cruised through the top of the ninth to seal the victory. The only bad news from a pleasant afternoon of baseball: Another Met pulled up lame. Andres Torres took a bad step in pursuit of a line drive and strained his left calf. He's headed to the DL.
Other than that, so far so good! Who cares whether or not the place was packed?