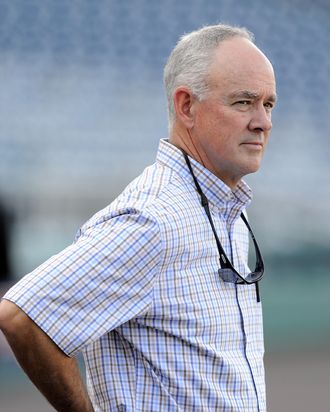 Our preview of the 2012 Mets season continues with a look at how the team will define success this year.
So, we're all pretty much agreed that the Mets aren't making the playoffs this year, right? We think the Mets are going to be better than people think they'll be, but that might not even be reflected in the standings because the rest of the division is so much stronger than it usually is. So what does "success" mean for the Mets this year? What would be the positive takeaways? Let's take a look at five good signs for the Mets in 2012.
Lucas Duda hits 30 homers or more. That's a lot, obviously, but if Duda gets the power-spike many predict for him, it will mean not only that the Mets have a cheap outfield option for the next two to three years, but also that the much-discussed moving-in-of-the-fences has shown palpable results. Eventually, the Mets are going to need to sign some free-agent hitters who think they can hit some homers here. If Lucas Duda can end up with 30, they'll know they can.
Ike Davis and Johan Santana stay healthy all year. The Mets may have their first baseman for perpetuity in Davis, but he has to stay on the field. If the valley fever or some other malady doesn't take him out, he could be one of the most valuable properties in all of baseball: a young, cost-controlled, power-hitting first baseman. As for Santana, well, the Mets are paying him $49.5 million over the next two seasons, so it might be nice to see him do something. Just on principle.

Matt Harvey is in the rotation by September. Quietly, the Mets, now that they've locked in Jon Niese, might have themselves quite the young, talented rotation over the next few years. If Harvey can land this year, and Zack Wheeler next year, you're looking at Wheeler/Harvey/Niese/Dickey/whoever for the next few seasons … a fivesome that any team in baseball would envy. If Harvey's going to be a rotation mainstay starting next year, you'll want him to whet his feet this fall.
More prospects enter the system. The Beltran-for-Wheeler trade was a Sandy Alderson masterstroke that almost — almost — makes up for not getting anything for José Reyes last year. The Mets need more of that, please. David Wright is the most commonly mentioned trade chip, but come July, everybody needs bull pen help, and the Mets have plenty of that to spread around. It might be asking too much for Alderson to bring in another Wheeler, but right now the Mets have two top-100 prospects. They need to have at least five at this time next year, either through their own system or by pillaging others. This is still all about the future. This year is just another building block, another step until everybody's ready to contend again. Not the best marketing slogan, but these things take time. The Mets have plenty of that.