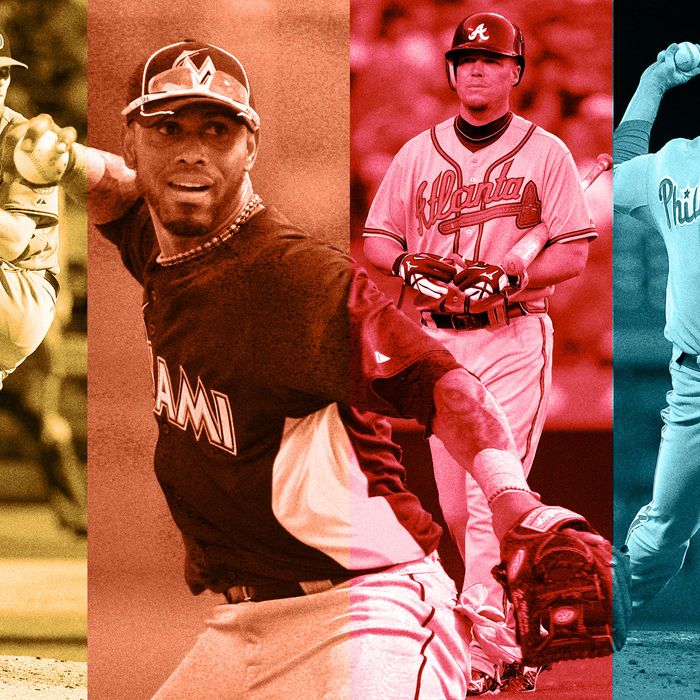 Our preview of the 2012 Mets season continues with a look at the rest of the National League East.
It's rather difficult to find any prognosticators who pick the Mets anywhere other than last place in the National League East. Some people have them with as many as 78 wins, some as few as 65, but everybody's got 'em last. Is that right? Are they stuck there no matter what? Let's take a look at the rest of the division and the Mets' chances of catching them.
Philadelphia Phillies. In a couple of years, the Phillies are almost certainly going to fall apart. They're old, they're rickety, and they're doing strange things like starting Juan Pierre. But even with Ryan Howard and Chase Utley out for a good chunk of this season, it's just near-impossible to deal with that rotation. Roy Halladay, Cliff Lee, and Cole Hamels (pitching in his free-agent walk year) is too much for the rest of this division to take. The Phillies and everyone else in this division are going in opposite directions but not fast enough for it to matter this year. Odds of being caught by the Mets: 9 percent.
Atlanta Braves. It is pleasing — for the rest of the NL East, anyway — that the Braves are owned by Liberty Media rather than Ted Turner anymore. The Braves have a terrific farm system, intelligent management, and a culture of success that has helped them ride out the thinner times … but they still always seem one or two signings away from breaking through. Liberty Media won't make that next step — they might even be unloading the team — so the Braves end up, like last year, one game short. Jason Heyward should rebound, and it'll be a fun goodbye for Chipper Jones (who, may we remind, named his child Shea), but we have a feeling this is the year the wheels come off in Atlanta. Still probably won't be enough for the Mets, though. Odds of being caught by the Mets: 36 percent.
Miami Marlins. Question for Mets fans: Are you having as hard a time looking at Jose Reyes in a Marlins uniform as we are looking at our old pal Albert Pujols in an Angels uniform? Still makes us recoil. The Marlins are baseball's ultimately "new money" team, and even though it's hard to shake the sense that this team will end up selling all these guys off in two years, it's undeniable that the Marlins are stocked with talent. Particularly in their lineup: Reyes/Bonifacio/Ramirez/Stanton/Morrison/Sanchez is legitimately scary. (If they had gotten Pujols … yikes.) It'll all explode in horrific fashion in a couple of years, but for now, the Marlins are our sleeper pick to win the division. Odds of being caught by the Mets: 17 percent.
Washington Nationals. Last season was the first time in the Washington Nationals' existence that they finished ahead of the Mets in the standings, and it might be a while before the Mets catch up again. The scary part about this talented Nationals team is that this is probably as bad as they will be for a while. Stephen Strasberg will be at full strength in another year, around the time Bryce Harper is taking over. The Nats are plenty talented now though, too. This team might own this division for the next decade, so enjoy this blossoming period while you can. Odds of being caught by the Mets: 21 percent.
So, this is all to say … yeah, Mets are almost certainly finishing in last.