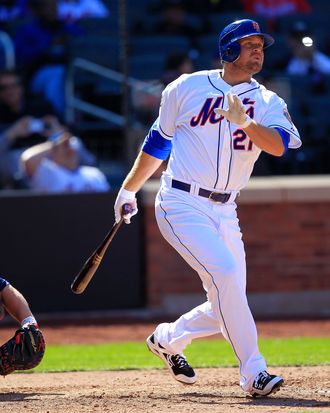 It sure does seem like a while since the Mets and the Phillies had a legitimate rivalry, doesn't it? It feels like we bring this up every year, but we really miss when Carlos Beltran and Jimmy Rollins were fighting about who were the favorites "on paper" coming into the season. (Wait: We do bring this up every year.) Since their little "war" of "words" in 2007, the Phillies have won five straight division championships and a World Series. The Mets … well, you know what the Mets have been up to.
As the Mets head to Philly for their first road series of the season — we're sorry, the half-game-out-of-first-place Mets — it's worth taking stock of these two franchises and the directions they're headed.
Obviously, the Phillies are better than the Mets right now: Having Roy Halladay, Cliff Lee, and Cole Hamels is preferable to, say, having Jason Bay in left field. But years going forward? One can make an argument for the Mets.
First off, look at payroll obligations. Next year, according to Cot's Baseball Contracts, the Mets are on the hook for $54.4 million; in 2014, just $13.6. After that, the only obligation they have is Jon Niese. That's called flexibility. For all the talk about the Mets' supposed money problems, they're not going to be weighed down by ugly contracts much longer. The Phillies, though … yikes. Next year? $112.6 million. 2014? $74 mllion. 2015? $63 million. In 2015, the Phillies will be paying a 37-year-old Cliff Lee $25 million, a 36-year-old Ryan Howard $25 million, and Jonathan Papelbon, a closer, $13 million. And they'll surely add to that with other older players: Hunter Pence is only going to get more expensive, Roy Halladay has an option coming up, and if they want to keep Cole Hamels, they'll have to pony up this off-season. The Phillies are going to have to pay through the nose just to keep an aging core together. Meanwhile, the Mets can pick and choose their spots; when you think of how weighed down they were just two years ago, that the Mets would be in a vastly superior position to the Phillies, contract albatross-wise, is sort of amazing.
The Phillies' farm system is a wreck too; Keith Law ranked them 25th in his preseason rankings. That's three spots below the Mets, but on the way down; the Phillies are trading pieces away to support an aging roster, while the Mets are trading away big-league pieces and investing money to build up their farm system. The Mets have Sandy Alderson and his brain trust in charge; the Phillies have Ruben Amaro, who gave Ryan Howard that ridiculous contract in the first place and who will clearly be scraping and clawing just to keep the old roster relevant, with diminishing resources and results.
The Mets have plenty to worry about within their division, particularly the looming giant that is Washington, and obviously they have a ton of work to do themselves. But if you were to ask us right now which one of these two old rivals will have a better record in three years, we'd say the Mets. We don't think it's much of a question at all.
Hopefully this will make the Phillies sweep this weekend go down easier.