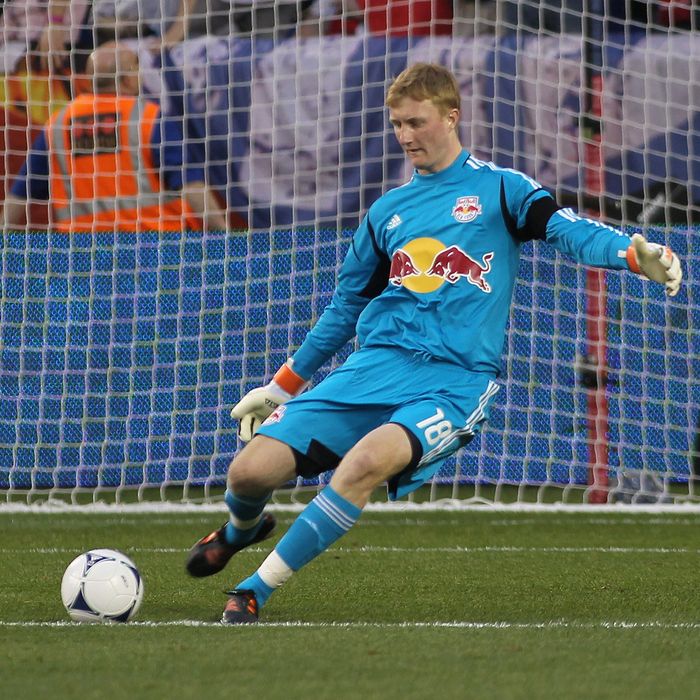 Ryan Meara is a 21-year-old Yonkers native who attended both Fordham Prep and Fordham University before being selected by the Red Bulls in the second round of this year's MLS Draft. Meara has started all six games for his hometown team so far this season (the Red Bulls are 3-2-1), and he spoke with The Sports Section about staying close to home, following in his idol Tim Howard's path, and the burden of being a dead-ringer for Larry Bird.
As a kid, did you ever consider growing your hair out in a ponytail because you wanted to be like Tony Meola?
I grew up rooting for the MetroStars. By the time I was really getting into soccer, Tony Meola was just at the end of his career, so I didn't really get to see him much. But when I was in seventh or eighth grade, Tim Howard was an up-and-comer with the MetroStars, and I really latched on to him. Even still, I'm a big fan of his. I try to watch all of his games at Everton and, before that, at Manchester United. He's definitely someone I look up to.
You come from a family of New York firefighters, right?
My grandfather was. My dad and my uncle are still firefighters in the city. It's just something that's always been in my family. If I wasn't playing soccer, that's probably what I'd be doing.
How'd you get into soccer?
Everyone in my neighborhood played until, like, 5 years old, but then it was more baseball and basketball, and I was the same. But I got so lucky. When I started playing for Yonkers United [a local youth traveling team], the coach was this guy Tony Cullinan, and he was just an amazing coach and a great guy. He really made me love the game. If it wasn't for him, I don't know if I would've ended up playing.
At what point did you start to really focus on soccer?
When I made the ODP [Olympic Developmental Program] Regional team when I was about 12. Even still, I wanted to play basketball throughout high school. Especially for a goalie, I think it helped me a ton between jumping and being quick and always using your hands.
Are you any good?
Yeah, I was pretty good. I went through a big growth spurt, I think, during my sophomore year. I grew six inches, so that helped a lot.
When did you start to look at professional soccer as a legitimate possibility?
It was always a dream when I was a kid. The summer going into junior year [of college], I played for Ironbound Express out in Newark in the PDL [Premier Development League, a national league top college kids play in during the summer]. I had a pretty good summer and won PDL Goalkeeper of the Year. I just felt real confident, and I think it carried over into my last two seasons at Fordham. That's when I realized if I just kept working hard and doing the right things on and off the field, I could have a decent chance of playing professionally.
Going into the MLS Draft, did you have any plan B in case, at least right away, you wouldn't be able to make your living as a professional soccer player?
I knew there was a pretty good chance I'd get drafted that first day, but you can't take anything for granted. I'd signed up to take the New York City and Yonkers Fire Department tests, so I probably would've taken those.
And now you're following in Tim Howard's footsteps, playing with Thierry Henry, and starting in goal for your hometown team.
I would've been happy to be drafted by anyone. Once the Red Bulls had the pick and I saw my name pop up, my family and I were thrilled. I'd still be close to home, and the Red Bulls are just a great team. Between Thierry [Henry] and Rafa [Marquez], there are so many great pros on this team. I've come in and really tried to learn as much as I can from those guys. It's a big step up from college to the pros, and all the guys have been great.
Has being close to home made that transition easier?
It's definitely helped. We had off for Easter. I was able to go home and have dinner with my family. I know there are a lot guys on this team without that luxury. I'm fortunate, and it's great to get home and be around the people who know you best.
Rumor has it, due to your resemblance to a certain legendary Boston Celtic, no one on the team even calls you by your real name.
In the locker room, I get more "What's up, Larry?" than "What's up, Ryan?" comments. It's pretty funny. There are a lot of characters on this team. Everyone likes to joke around.
Did you consider auditioning for Bird/Magic?
I actually just heard about that. I gotta try to get down there and see it.